Tuesday, May 10, 2005
How about some knitting content
So, I am still at work & pretty bored. Liz is entertaining herself with her keyboard & a karaoke machine which is a story within itself BUT... I am here to add knitting content to this "knitting" blog. If you frequent craftster this may be old news to you but all my new FO's & WIP's are at home so...
Here are some things I have finished in the past month (or so). Knitted & knitting related.
A "roll your own needlecase" for my mom (from
stitch n' bitch
).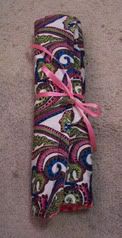 A branching out scarf from
knitty
). I used cascade 220 in bluebell. I Love the scarf in this color! Thanks to
Sandra
for starting the KAL on craftster.
A sophie bag from
magknits
. I used cascade 220 in celery for this (yes, I really like that yarn). It is so amazing for felted purses.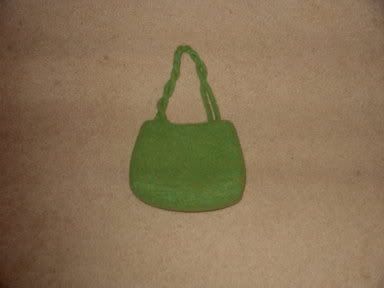 I also made use of my husbands geeky past by using his old 12 sided die from D&D as toppers for my handmade needles.


I dyed some lion's brand fisherman wool with Kool Aid & got this: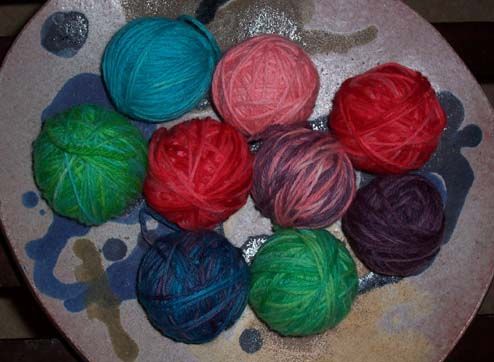 I used the purple, pink & blue for a purse I made for the wish swap on craftster. I mailed it on Saturday & will post pics as soon as pibbgirl gets it.
The yarn dying process was so easy & really fun! I felt like I was back in high school chemistry class. I wasn't satisfied with the colors after the first round of dying (I really wanted something vibrant as I planned on using the yarn for a felted bag). So after the yarn took all the dye in the dish I rinsed it, let it cool & dyed it again. I was able to get some very cool variegated yarn this way.
Lastly I made Roger. My pirate goose niddy noddy.
He got an exteme make over from this: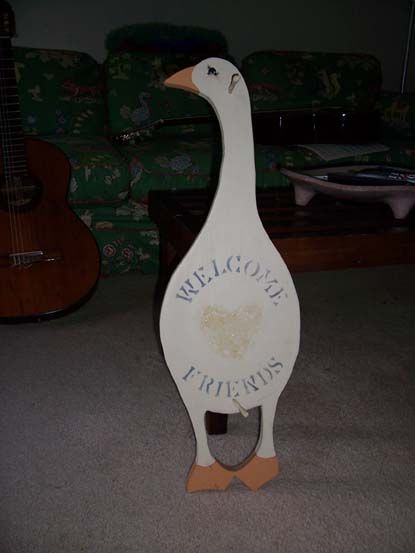 To this:
I really needed a niddy noddy as the only chairs in our house are very cool vintage chairs from the 50's inspired by the whole eames art movement. So without a chairback & with a husband who is a great noddy when he is there (but often is working when I need a noddy). I decided to make Roger. He is techically a jr. noddy as he is half the size a regular noddy is. I found him at a thrift store for a dollar. Two nails & some spray paint later & he is a new goose! A much happier goose I am sure!
So now I feel better. Like this isn't some wannabe knitting blog with no knitting on it what so ever.
Comments:
Hey, I recognize that shiny hair anywhere! Worthwhilegirl!!!!
I stumbled upon your blog. Very nice. :) And I love the kool-aid dyed yarn. I'm going to be doing that pretty soon for the first time. Can't wait.
Sandra, you are too funny! I was actually inspired by your super cool blog!! You make the cutest things & have the most interesting things to read! I can't wait to see your kool aid yarn! It is so much fun to do!
Post a Comment
<< Home