Wednesday, June 29, 2005
No rest for the weary
Tuesday, June 28, 2005
And now for something completely different....
Like knitting content!
I've been a busy bee the past couple of days!! I finished the dreaded 23 inches of BORING stockinette stitch on the back of my "accidentally on purpose" vest from stitch n' bitch nation. It looks marvelous (if I do say so myself). Getting to the point where you drop the stitches was glorious! It is such a wrong thing that feels so right. I was on the edge of my chair half worried that the entire thing would disintegrate in my hands but no! I was successful & here is my proof!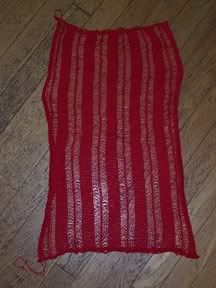 I'm working with Patton's Grace in cardinal red. Yes folks I love red knits!
I've also started on a skull illusion scarf for my sister. I made an alien illusion scarf for a cousin last year but I found a chart made by the lovely Ysolda on
craftster
& I knew Corrie would be all about the skulls!
Here is a pic of the stripes (sorry it's upside down- photobucket is being weird).
And one where you can see the skull and crossbones.
I'm going to do 2 skulls at each end and plain stripes in the middle. I'm using some wool ease. It's perfect for this stuff!
Etsy
is still going well for us. We have made a few more sales (thanks
Amy
) and I've bought a couple of cute things. I got my super spiffy "craftastic" headband from the other cool craftin' Leah. She also included some of the "NEW" craftster buttons! I was ELATED! I really wanted some! The headband rocks! It may be the first of many! If you would like one you can visit her
Craftastic
shop!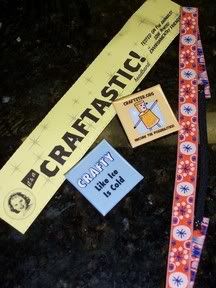 Sandra
got her
Cyanotype
shirt yesterday. I also sent her a CD. She loved them both (yay for happy friends/customers)! You can see her lookin' fly in it on her blog! What a supermodel in those glasses!
So now off to watch the real world. Yes folks I admit it I love watching people do stupid things for attention. It really amazes me.
Let me leave you with a much nicer thought.
Me & my two best friends- Laura & Tammy (wearing the kick ass shirt I made her). Tammy will be a Mommy to Coen in about a month and that thought amazes me. We have 10 years of photos just like this. I am one lucky girl.
Thursday, June 23, 2005
Oh we're moving on up... to the top.. to a deluxe apartment in the sky
Tuesday, June 21, 2005
Etsy ROCKS!!
Etsy.com is now open! DIY shopping HEAVEN!!
Monday, June 20, 2005
F*U* Urban Outfitters!! Buy DIY!!
Sunday, June 19, 2005
Back on the chain gang
Sunday, June 12, 2005
no. 13 baby
Saturday, June 11, 2005
She likes the faded things...
Monday, June 06, 2005
Anne Marie won't you dance with me, I've been standing here so long I'm gettin tired
Friday, June 03, 2005
Ta Da!!!