Tuesday, October 25, 2005
Two years ago today....
I married my best friend!
Our wedding was amazing & our marriage has exceeded all my expectations!
I love you Isaac!
Paste magazine rocks!!
So the
Paste rock & reel festival
was this weekend. We got to see some great bands like Low, elf power, Manchester orchestra & Howie Gelb of Giant Sand. My favorite band was
a hope for a golden summer
. Seriously folks click the link & check them out! Any band that displays that much camaraderie & plays the saw live on stage is amazing! Not to mention the beautiful lyrics & really captivating melodies!
We also watched about 8 hours of film. The only feature length we saw was
High and Dry
which is about the music scene in AZ. A very decent documentary.
Of all the shorts we saw these were my favorites:
Fake Stacy
The review explains it all!
Matisyahu- a documentary about the reggae artist & hasidic jew
Matisyahu
Spamku- I won a hakiu constest about spam. In 4 minutes there was knitting, sock monkeys & spam. Need I say more?
Wow & Flutter- a brilliant film about one 13 year old's obession with making the perfect mixed tape. The
website
has a trailer.
My personal favorite was "Found in America". It is a documentary about
Found Magazine
& it's founder Davy Rothbart. I adore found & it's sister
Dirty Found
.
I managed to FIND the short in it's entirety
here
Sunday, October 23, 2005
My love hate relationship with Teva Durham
Right now I love her! My lace leaf pullover from
loop-d-loop
is finished!
Please excuse my baby blue tee shirt & the few ends that I didn't weave in yet. I was just so excited to have it finished.
It was done in Rowan Polar (which is scrumptious to work with) in "red hot" on size 11 needles. The polar is soft & has a great drape and lovely stitch definition. It has a much more fitted look than the original design intended but I love it!! I have a feeling this is well on it's way to being my favorite sweater. Now if only the sweater weather would get here (it was 70 today).
Now as to the hate part of our one sided relationship. I can explain it all in one word GRAFTING. Now at this point in time, days removed from the grafting I can look back on it with appreciation. After all I had only grafted one item before this (the bottom of my felted skully tote) so this was a great learning experience. Back on Wednesday when I was first attempting to graft it however my feelings were quite different.
It took me an hour and a half on my first grafting attempt & it looked awful. Kind of like a dog had chewed up & spit out just the middle section of the sweater. Thursday afternoon I ripped out the grafting (on the verge of tears the entire time I did). I felt a huge sense of relief to get both pieces back on needles with the right amount of stitches. Thursday evening I sat down to give it another go. I was much better with my tension & I just kept thinking about
Grumperina's
grafting advice. After two hours of grafting and tweaking the stitches and tension I finally got it. Honestly as I laid it out to block I had this overwhelming feeling of pride. I am by no means an expert knitter but most of the things I knit come pretty naturally. This is the first time in months I have really struggled with something.
So, thank you Teva Durham for this wonderful pattern and for making me a better knitter.
In other knitting news I had a major score today at the thrift store!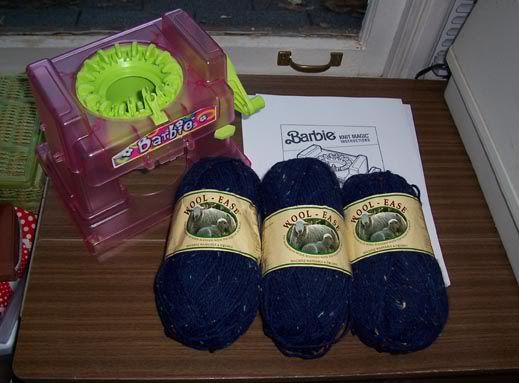 Yes folks that is a mattel "Barbie Magic Knitting Machine" & 3 skeins of a really cool navy blue tweed wool ease. All for $2.00!!!
I have been drooling over the whole "magic knitting machine" idea of a tube knitter since
Glampyre
talked about hers in her
felted skull tote pattern
. The idea of knitting inches of tube or a panel for purse handles in mere minutes!! Very appealing! It didn't come with the manual (but what do you want for $.50). Luckily mattel was kind enough to put the manual up
here
.
I intend to use the wool ease to make the "Basic Cable" hat from stitch n' bitch nation. I think the tweed & cables will look rather nice together!
Other than the thrift store we spent the majority of the weekend at the
Paste magazine Rock & Reel festival
. Paste has it's HQ a mere 4 blocks from our pad here in Decatur & they were cool enough to give back to their hometown with an amazing music & film festival. There were so many great bands & amazing movies that I want to go on about but Law & Order: Criminal Intent is calling me. I will gush over them all tomorrow!
Thursday, October 13, 2005
A semblance of normalcy- HA!
First off I want to thank all my lovely friends for their thoughts & support. It has been so nice to know I have so many to turn to in this trying time. You guys ROCK!!
In the real world my knitting has been pretty lackadaisical. Amongst the important things I forgot to pack for my trip last week (deodorant, black dress socks, a hair brush) was anything to knit. Luckily when we arrived in Jax & stopped at target to pick up all the other things I had forgotten I found a knit this kit on clearance for $2.77.
I figured it would make a great Christmas gift for Coen & it was an easy knit to keep my mind off of things. I've finished the hat & the booties (which still need to be sewn up) plus I need to add the embroidered features. I guess for $3.00 it wasn't a bad deal. It came with a DVD & pretty decent knitting instructions. The needles were cruddy plastic but I can't complain. At least I had something to keep my hands busy.
My lace leaf pullover is sitting at home mocking me. All the pieces are finished & now all I need to do is graft it and set in the sleeves. Double HA! Easier typed than done. I've only grafted one other thing & it was the bottom of a bag so it didn't matter if it was perfect or noticeable. Someone on
craftster
posted this wonderful link to
grumperina's
grafting advice. I think I will sit down with it this weekend & give it a go.
Now to leave you with something I promised a week ago! Pictures of my finished ballet tee from loop-d-loop.
It was done in Lamb's pride cotton fleece in the color "Rue" on size 15 circs. It was a fast knit & I really love the way it looks lengthened! No crop tops for me!! Eek!!
Monday, October 10, 2005
My absence will remind you of how tough it is to be in love
Aaron was my first love. We met when I was 20 and immediately had a powerful connection. Often times he was quiet and intense. He never uttered a sentence that wasn't completely thought out. He loved golf, the jacksonville jaguars, flying and recently began to fly solo and he was an amazing cook. He was the kind of guy you couldn't peg.

His friends were the most important thing to him. He would do anything for a friend at anytime. He once brought my younger sister medicine and soup when she was too poor to afford any. I didn't even know he had done it til I got home from work. At the time they weren't even close but he knew it was the right thing to do.

He taught me to play poker, to drink good scotch, how to laugh at myself, to be a great friend and got me hooked on steely dan. He always had a simpson's reference for any situation- I loved that. When I was offered the opportunity to teach children with disabilities it was Aaron who gave me the most encouragement. In our last conversation a few weeks ago he told me he was proud of the way I was changing the world & his part in that. I will hold those words in my heart forever.

Aaron had a very difficult childhood & adolescence. Even at our happiest moments he was in a great deal of pain. All the love in the world couldn't solve that. I feel so lucky for our 3 years together. His love and friendship helped me through times both good & bad. We still remained close after all these years. Every time I saw his phone number or heard his voice it brought a smile to my face. He and Isaac became friends as well and before our wedding he told me with all earnestness that he couldn't be happier for me.

There is an emptiness in my heart that I know over time will fade but I will never forget the love and friendship we shared. I know his pain is gone now and he is in a better place and for that I feel at peace with his decision. I will miss him immeasurably.

Tuesday, October 04, 2005
I've been so lame....
And I apologize. I have a really heavy heart over the loss of someone I loved very much & just couldn't help. I can't write about it just yet & I was intending this post to be a "take my mind off it" kinda thing but it hasn't. I even typed a lot of fun fluffy knitting stuff with pictures of my ballet tee. It just seems so inconsequential right now.

Isaac & I are heading down to Jax tomorrow & I think I will be better after I say goodbye...