Sunday, October 23, 2005
My love hate relationship with Teva Durham
Right now I love her! My lace leaf pullover from
loop-d-loop
is finished!
Please excuse my baby blue tee shirt & the few ends that I didn't weave in yet. I was just so excited to have it finished.
It was done in Rowan Polar (which is scrumptious to work with) in "red hot" on size 11 needles. The polar is soft & has a great drape and lovely stitch definition. It has a much more fitted look than the original design intended but I love it!! I have a feeling this is well on it's way to being my favorite sweater. Now if only the sweater weather would get here (it was 70 today).
Now as to the hate part of our one sided relationship. I can explain it all in one word GRAFTING. Now at this point in time, days removed from the grafting I can look back on it with appreciation. After all I had only grafted one item before this (the bottom of my felted skully tote) so this was a great learning experience. Back on Wednesday when I was first attempting to graft it however my feelings were quite different.
It took me an hour and a half on my first grafting attempt & it looked awful. Kind of like a dog had chewed up & spit out just the middle section of the sweater. Thursday afternoon I ripped out the grafting (on the verge of tears the entire time I did). I felt a huge sense of relief to get both pieces back on needles with the right amount of stitches. Thursday evening I sat down to give it another go. I was much better with my tension & I just kept thinking about
Grumperina's
grafting advice. After two hours of grafting and tweaking the stitches and tension I finally got it. Honestly as I laid it out to block I had this overwhelming feeling of pride. I am by no means an expert knitter but most of the things I knit come pretty naturally. This is the first time in months I have really struggled with something.
So, thank you Teva Durham for this wonderful pattern and for making me a better knitter.
In other knitting news I had a major score today at the thrift store!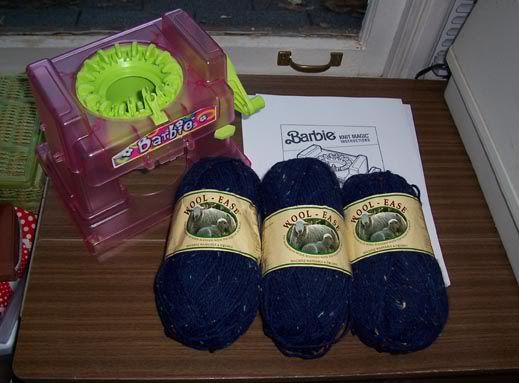 Yes folks that is a mattel "Barbie Magic Knitting Machine" & 3 skeins of a really cool navy blue tweed wool ease. All for $2.00!!!
I have been drooling over the whole "magic knitting machine" idea of a tube knitter since
Glampyre
talked about hers in her
felted skull tote pattern
. The idea of knitting inches of tube or a panel for purse handles in mere minutes!! Very appealing! It didn't come with the manual (but what do you want for $.50). Luckily mattel was kind enough to put the manual up
here
.
I intend to use the wool ease to make the "Basic Cable" hat from stitch n' bitch nation. I think the tweed & cables will look rather nice together!
Other than the thrift store we spent the majority of the weekend at the
Paste magazine Rock & Reel festival
. Paste has it's HQ a mere 4 blocks from our pad here in Decatur & they were cool enough to give back to their hometown with an amazing music & film festival. There were so many great bands & amazing movies that I want to go on about but Law & Order: Criminal Intent is calling me. I will gush over them all tomorrow!
Comments:
You guys are so nice! Thanks for all the compliments!
We got sweater weather today (high of 56) WOO HOO!!
Byrony- The Polar is as soft and lovely to wear as it is to knit with!! I highly recommend it!
Yahaira, I am so glad you pushed the polar!! I really love it. As far as the fit it was kind of the polars doing. I got exact gauge with size 11's but as I started the sweater I noticed that it was much "springier" as I worked with it. Once I had the bottom finished I could tell that it was going to be much more form fitting. The only mods I did was to knit fewer rows on the bottom piece so it would end up shorter than in the book. It worked out perfectly! Lots of people on craftster have been getting the same results with all differnt yarns which leads me to believe that the van dyke must be really dense to hold it's shape & not conform to curves.
Oh & the knitting machine is really cool! It knits tubes so quickly & almost effortlessly (once you get it all hooked up). I used the panel setting to make a headband last night! YAY!
Post a Comment
<< Home