Saturday, December 31, 2005
So much to tell, so little time.
I hope everyone had a great holiday! Ours was fantastic!!! We spent lots of time with our families and got to take in two amazing rock and roll shows. See
here
and
here
.
One of my favorite pictures is of Coen in his protective ear gear rockin' out!! Note that the onesie says "future rock star".
I got some great knitting gadgets as well! The two
ann
budd
books I had been coveting as well as a BALL WINDER!! WOO HOO!!! Who knew winding yarn into balls would be so much fun?!?!
I didn't get as much knitting done as I would have liked. I am half finished with the front of Cherie. But I have sad news to report on my jaywalkers. Imagine if you will a sock ,a sock with only an inch or so to go til you start the toe decreases. A sock with a very distinctive stitch pattern that includes double decreases. This is a beautiful sock. You step back to admire your work. It is then that you notice (to your HORROR) that about 3 inches back you have dropped a stitch. Now this isn't a reason to panic until you notice it is a stitch that is right next to the double decrease. Now, maybe a better knitter than I could have fixed it but alas I had to rip it back. So I did not finish a jaywalker sock in 05 as I would have liked. BUT... I still have 12 more hours to live that dream!
MUST, COMPLETE A SOCK!
In much happier knitting news got my yarn for angelica!! I love the color. It was supposed to be "dapple grey" but it turned out to have a lovely pale pink streak.
I can't wait to see how it knits up!! The hip knits silk is so soft and a really interesting texture!
I hope everyone has a really safe & wonderful New years eve!!
Wednesday, December 21, 2005
A giving time of year.
This week has been good to me. Not because of Christmas bonuses or gifts from family and friends (although those are appreciated). It has been the unexpected but welcome kindness of my blog friends that has warmed my heart.
On Monday I received a Christmas card along with pattern for Mary Jane slippers from
Erin
. Why? Because she is a kind soul who knew I thought the pattern was lovely and she wanted to brighten my day. Thank you Erin!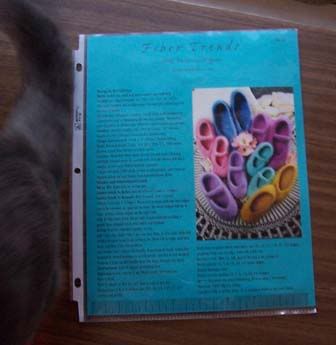 Today I got home to find a package from my spoilee from secret pal 6,
Janet
. She thought I could use a nice surprise as well so she sent me some candy, two scrumptious skeins of Shadow yarn from
Knit picks
in sunset, and a skein of Koigu --YUM. Thank you Janet!
The card she sent said: "For the best seat in the house, you'll have to move the cat". A very true statement as evidenced by this picture:
I'm still swooning over the lovely SP6 Angel package that I received from
Linda
last week.
No one had to send anything & it was out of the kindness of their hearts that they did. I appreciate that more than I can say. Thank you.
This time of year is so hectic with the rush to get/make gifts and all the trappings of the season. It is nice to be reminded that giving of time, love and friendship are the most important gifts you can give. I thank all my friends for those gifts this year. I look forward to your thoughts, advice and support every day.
Thank you.
I wish you all a most joyful Winter Solstice, Christmas, Hanukkah and New Year!
Thursday, December 15, 2005
Houston, we have a heel...
Yes, I have been making slow but steady progress on my
jaywalkers
: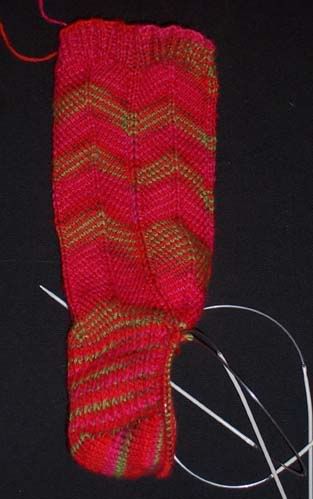 Amazingly with all the pooling stories I've been reading about sock garden mine is striping nicely! I really love the colors (which this picture is not a good example of) and the fit is great!! I could see knitting a few more pairs of these!
First I will need to polish off a few more projects that are in the queue like turning this: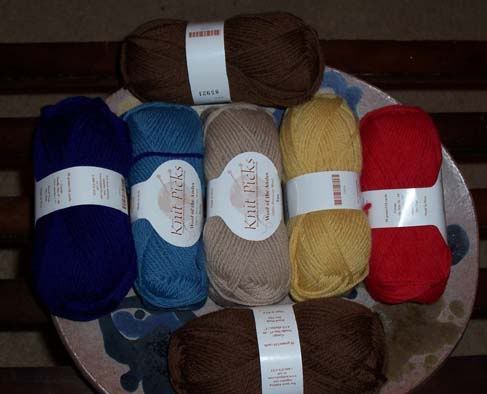 into this:
Edited for Karin and for anyone else weirded out by that picture: It's Tom Baker as Doctor Who. It is a BBC show that was pretty big here in America in the 80's. He is a time traveler who has used his mondo scarf to save the world many times. He is also a major hero of Isaac's childhood.
Thankfully it will be a "mini" version & not the typical 21 feet long version (which is knit in DK weight by the way)!
My progress so far: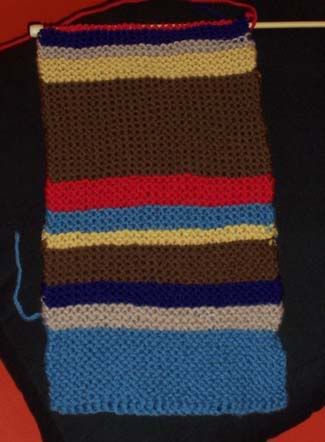 Of course I also have Angelica in the queue. I'm just waiting on the yarn to get here from the UK (it shipped today). Since it's a wee bit chilly here I've got the yarn for a couple of other sweaters as well.
Cherie (top sweater) from
Vintage knits
in Rowanspun DK "Mist":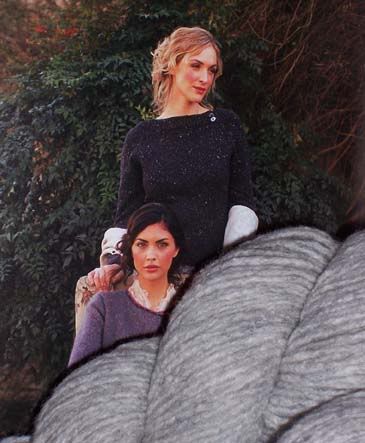 And Salina from
Vintage knits
in Rowanspun 4 ply "Hansel":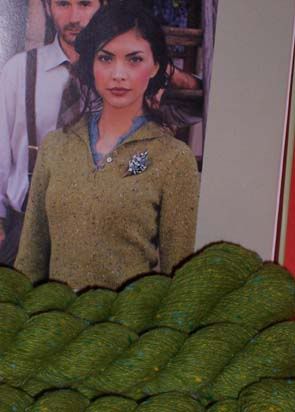 Luckily I finished my last gift for this holiday season (the pics will have to wait as the recipient is a reader occasionally- you know who you are). With all those pesky gifts out of the way I can finally concentrate on me again! Hurrah!!
Tuesday, December 13, 2005
Bonanza!!!!
So secret pal beta aka
Linda
ROCKS!!!! It's only been a week since my secret pal alpha fiasco and what do I find gracing my doorstep? An amazing package chocked full of knitterly goodness!!
It included: 3 skeins of my favorite Cascade 220, Weekend Knitting (which I have been coveting for so long), America: the calendar (ah, Jon Stewart), a picture book of adorable kittens napping and a toy for Max. Which as you can see here he really digs!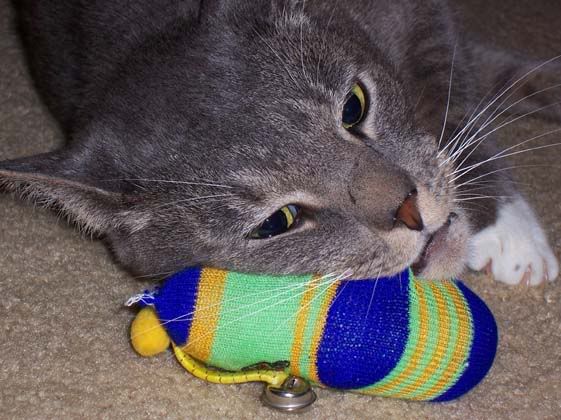 Linda's kindness went above and beyond giving presents. She really made me feel special and restored my faith in the whole SP system!!! Hop on over and check out her blog
The furry terrier
. She has some amazing pictures of FO's and her lovely little terrier Shelia. I know one thing, after an hour of perusing her blog I really want to learn to spin!!
I do have some knitting news but that can wait til' tomorrow as I think Linda deserves a whole post all to herself!!
Friday, December 09, 2005
I give you...
An appropriately ribbed jaywalker in progress!!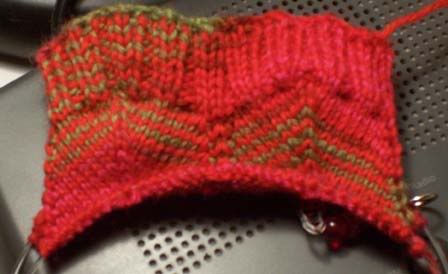 Yes folks, practice makes perfect!!
Thursday, December 08, 2005
Maybe I should learn to read....
Or at least not get so wrapped up in the excitement of magic loop knitting that I remember to read the pattern.
After
Angela
was so sweet as to stop by & comment on my jaywalkers I thought I would go check out her blog. That is when I noticed that her jaywalkers had 2x2 rib. I looked back at my picture to see 1x1 rib. I looked at the
pattern
only to find ...... 2x2 rib. Being the OCD perfectionist that I am I frogged them & started over.
I can now happily report that They are 2x2 rib and lookin' fine!
Thanks for all the kind words about my secret pal. I'm not sure why it all went down the way it did but I am now being well taken care of by a new secret pal (hi again).
I don't want my experience to dissuade any of you (
Carrie
) from joining in on a round of SP. For every story like mine there are tons of other wonderful stories out there. Just check out all the great stuff that
Erin
got, best of all she made a friend!
SP7
is starting up soon for those who are interested!
Oh & thanks for the comments on the capelet!! It is a really fun knit & would make a great gift!!
Tuesday, December 06, 2005
Blech and bah humbug!
That is how I felt about 2 hours ago. I never received anything from my secret pal for SP6 and then to pile on the hurt I got a really nasty email from her this afternoon. Luckily
Heather
is an amazing SP hostess who apologized profusely and got me a wonderful SP angel. Hello new secret pal!
To shake the yucky feeling from the email I decided to put up our Hanukkah-bush.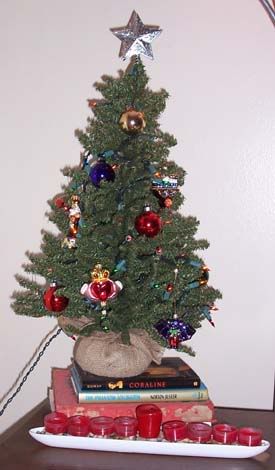 Note the Menorah in front of the tree. Yep, it's really a Hanukkah-bush.
Including a Menorah ornament: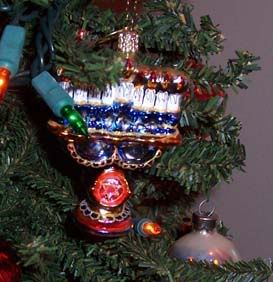 This is my favorite ornament. It was a wedding gift for our first Christmas as husband and wife: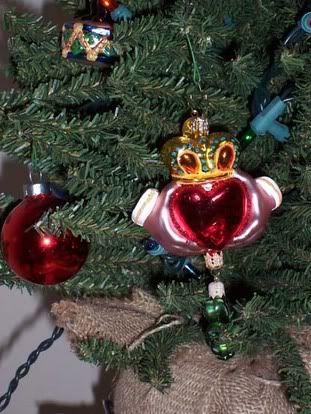 My grandmother gave it to us. It's an Irish Claddagh symbol. She immigrated here from Ireland in the early 1920's so it was a very appropriate gift.
The meaning of the claddagh is this: Two hands to represent their friendship, the crown to signify their loyalty and lasting fidelity, and the sign of the heart to symbolize their eternal love for each other.
It's a lovely thought isn't it.
So with all that done I'm back in good spirits and back in the Christmas spirit. I'm watching "It's Christmas Charlie Brown" which always makes me feel better about Christmas and all the commercialism.
So you want some knitting content?
How about this:
It's the beginning of a Jaywalker sock knit in
knitpicks
sock garden in geranium using MAGIC LOOP! I figured if I was going to try knitting real socks I should go all out. I really like knitting with two circ's like this. It ensures that I don't have any needles fall out while I'm knitting (which has happened to me before).
Thanks for all the encouragement
Yahaira
.
edited to add:
I just got more good news that my spoilee for SP6 got her package from me today. Hi Janet, I'm glad you liked it all! Check out her blog
here
. She has some adorable cats & lots of knitterly goodness!
Monday, December 05, 2005
I'm a lean mean knitting machine
Well maybe not but with all my pictures that I finally have to post it sure looks like I am!!
First I want to say thanks for all the compliments on my half a carpetbag. I am really pleased with the way it's turned out! I got the handles at a little independent fabric store in Jacksonville. Although I have seen handles similar to those at Joann's & Hancock Fabrics.
Lets start with my holiday hit the
reversible capelet
!!
I used up the Rowan Polar left from the
lace leaf pullover
I knit it up on size 13 needles (the pattern calls for 11's but I liked the look of the swatch with 13's). It took about 4 hours of knitting to finish this lovely & it got me endless complements at thanksgiving! You have to love that!
Now lets pretend that I am a good, unselfish knitter for a second (which is so not true).
For my much loved husband I give you: Isaac's I love the 80's hat!
He wanted big chunky ribbing and lots of pixelish spots. This is a better picture of the pixels & the colors.
Now for my wonderful stepmom's cold tootsies, it's fuzzy feet part deux!
Before felting:
And after:
I used chocolate brown cascade 220 for the main part and the leftover bluebell from the last pair of fuzzy feet for the accent colors.
I would have posted this earlier but when I logged on to update I was sucked in by the new
Knitty
. I love so many of the patterns. My absolute favorite is
Forecast
. Stefanie Japel does it again. I also love the toy patterns & a couple of other sweaters but forecast has stolen my heart. It has such a feminine, vintage look. *Swoon*. Now if only I didn't have so many thing on the needles & I hadn't made that promise to myself about not buying more yarn.
Soon my precious, soon!
Now I'm torn. I could be the good little knitter that I know I should be and work on the last purse I need as a christmas gift. Or I could use my new sock needles that just came today & cast on to
jaywalker
. Hmmm, I bet none of you can guess what I'm gonna do!
I will leave you with a picture of my husband the rockstar!
Friday, December 02, 2005
So if I have a carpetbag am I a carpetbagger?
Or half a carpetbagger since I technically have only finished half the bag?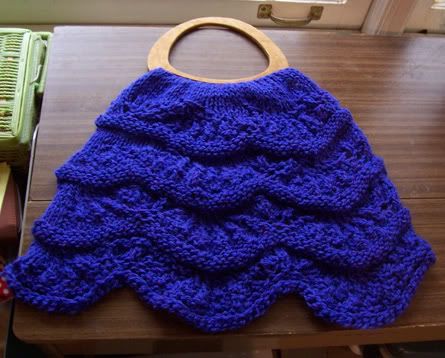 There you have it. Half of the "scalloped carpetbag" from Handknit holidays. I'm using
Peace Fleece
worsted weight in Baghdad blue. That picture is not at all a true representation of the color but this is: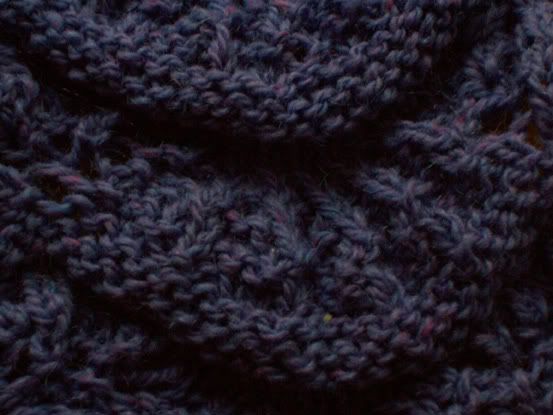 It's also a nice close up of part of the scallop. As you can see from the first pic I found some vintage looking wooden handles that I think really fit with the bag. You may also be able to tell that this piece will need some blocking as it looks like it's been living crumpled up under a pile of clothes for a week.
Tomorrow I will have pictures of the
"reversible" capelet
and of my second finished pair of
fuzzy feet
.
I'm also really excited about the
Angelica
knit along that
Yahaira
and
Carrie
have started!
It's such a lovely pattern! I've been drooling over it for ages!
Come join us!!
Now off for Indian food & to see "Pride and prejudice". It just won't be the same without Colin Firth! He will always be my Mr.Darcy!