Friday, July 29, 2005
See this film! I implore you!!
Isaac & I just got home from a screening of the new documentary "Murderball". It was the one of the most real & compelling documentaries I have ever seen (and I have seen a LOT of documentaries)! It is about the US paralympic rugby team and their personal stories as well as the team story of the 2004 games.
The screening was sold out and at the end there was a Q&A with Mark Zupan one of the quadriplegic rugby players from the film who honestly, insightfully and comically answered everyone's questions. He said his main hope was that this movie would raise awareness.
Give it a chance and watch the preview at the link below. It speaks for itself.
Thursday, July 28, 2005
Welcome to the world Coen!
So my BFF Tammy had her darling baby boy yesterday at 2:21 pm. He was 8lbs. 8 oz and 21 inches long. Coen came into the world with a bang or with an emergency C-section to be precise. Mom & baby are both doing well now & I feel as if it is an eternity til' August 12th when I get to go to jax to see them!
Sometimes being away sucks!
I've been working on a super secret knit project for one of my craftster swaps. It is coming along beautifully! I may even finish it up tonight. Woo Hoo!!
I've also cast on to
Lelah
last night. I was clearing out my stash (I may need to join yarnaholics anonymous) when I came across 3 random skeins of cotton ease in slate blue. I think my great aunt gave them to me but I can't really be sure. I've been admiring the pattern for a while now but I was trying to clear out my stash and not buy yarn!! I think that the yarn gods smiled on me last night!!
It's knitting up nicely! The lace pattern is fairly easy & it's nice to knit something a little more complicated after my "accidentally on purpose".
I think I need ice cream now.
Saturday, July 23, 2005
Drumroll please.....
Here it is as promised (but a day late)- My accidentally on purpose vest from stitch n' bitch nation.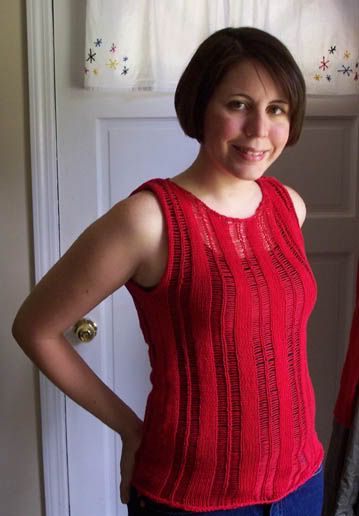 I used Patton's grace in cardnial on size 5 needles and it took me about a month and a half to finish it (I had to take many breaks from the endless stockinette stitch).
I am really pleased with it! Now if it weren't 95 degrees outside & I could wear it......
Thursday, July 21, 2005
I still have all my teeth...
but I do have an appointment on August 15th to have my wisdom teeth removed. EEK!

In bigger better news I am mere rows away from finishing my accidentally on purpose!! HUZZAH!! I hope to have the time to finish it tonight & post pics tomorrow night!!

I honestly don't think I have ever been so excited about finishing anything! Woo Hoo!!

Tuesday, July 19, 2005
I always seem to update on Tuesdays
So we have recovered from Harry Potter fever. Isaac & I both finished the book this weekend. It was bittersweet as I couldn't put it down but I was so sad when it was over. Only one more left. Sigh.
Here are the
pictures
from the borders party on Friday night. It was too much fun! The turn out was substantially larger than the one for Goblet of Fire or Order of the Phoenix.
We did quite a bit of nothing this weekend as well. It is the first weekend I have been able to sit & knit for a few hours with no interruptions. It was very nice. Alas I am still not finished with my accidentally on purpose. Oh well. I suppose I will finish, some day.
How about something less dramatic. I need to find a good pattern for a beret. Yeah I know there may not be such a thing as a good pattern for a beret. Still I need to find one. The reason is of the utmost secrecy and shall be revealed in good time.
A couple of things before I go:
Tiny showcase
has a new print tonight. We got our
Catia Chien
print today. It is so lovely in person.
Tomorrow I have a dentist appointment. This will be my first time seeing Dr. Greene. Isaac swears she is a wonderful dentist but I am still uneasy. Hopefully at this time tomorrow I still have all my teeth.
Oh & we made it to featured items on
etsy
again this week! As did
Amy
. Congrats Amy!
Friday, July 15, 2005
As promised..
Pictures of Isaac's HP shirt.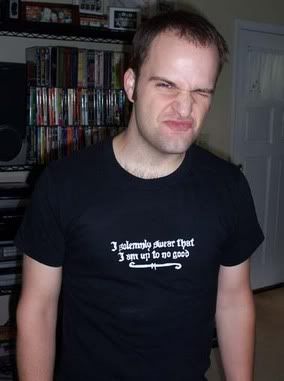 I guess that is his "I'm up to no good face".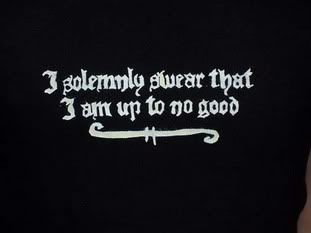 We are such dorks that we already went to borders to get our ticket! We got number 21! Woo Hoo!!
Oh & I am really over flickr. Why oh why do my pictures never work. I've switched to an html based badge so maybe they will be better now. Le sigh!
So, now off to dinner & dork heaven!
Thursday, July 14, 2005
So the new interweave knits rocks my socks!!
I was in Michaels today picking up embroidery floss to work on one of my projects for the "Favorite Children's book" swap on craftster and I saw the Fall interweave knits. The Union Square Market pullover on the cover immediately caught my eye as it has such a Star Trek: Next Generation look to it. The Weekend Getaway satchel blew me away!! I am a sucker for huge felted bags.
Other knits I adore: The felted floral Capelet, Greek pullover, Vintage inspired jacket, the brioche helmet hat & the canteen bag! WHEW! I've never bought a knitting magazine where I loved so many patterns.
I think my first knit from it will be the fingerless mitts. They would be great for cold weather camping when I want to knit or for all those outdoor shows we will be playing in the dead of winter. Yeah that one is a longer shot & yes I do take knitting when we go back country hiking. I take the knitting & I take fewer clothes to compensate for the weight. After all a couple of days into it everyone smells so bad that clean clothes don't really matter much.
In other news we are only 24 hours away from the new Harry Potter book. Yeah I am that much of a dork that I made t-shirts for us to wear to the release. Here is mine:
Sorry for the dirty mirror. It says "Weasley is our king". I was inspired by a post on craftster. Isaac's shirt is still drying. I used the quote from the marauders map "I solemnly swear that I am up to no good". Also not my original idea (thank you craftster). I will post a pic tomorrow. They turned out really well if I do say so myself.
Also on the agenda today: making a tart. I used
this recipe
from NPR, yes I said NPR! I heard a story about it a week or so ago & it really stuck with me. So here is my first forte into tartdom.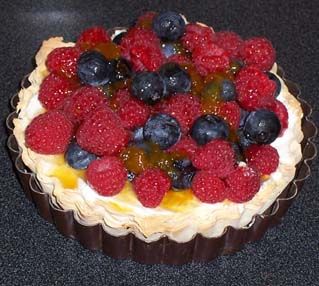 It was really simple to make & so yummy!! I highly recommend it! There is no better way to eat fruit than with mascarpone cream! It's heavenly!
Sunday, July 10, 2005
So I didn't learn to frame this weekend....
but I did accomplish a lot.
On Friday
Thee Monarchy V
came into town. Isaac was a member of that band til we left jax. He has been friends with those guys forever & it was great to hang out with them! They are a killer garage rock band!!
Saturday we went thrift store shopping & I came away with 3 pairs of my favorite Levi's (type 1) & 3 very cool vintage frames all the perfect size for any future
tiny showcase
prints. I also found a ton (10 skeins)of super soft caron's baby yarn from the 80's for $2.02!!!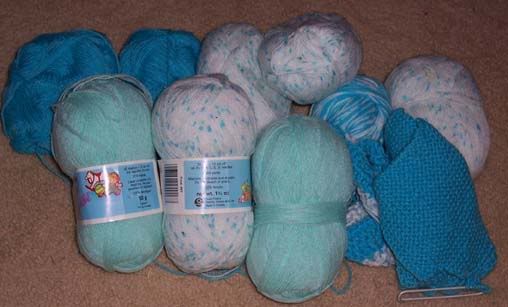 The bonus was when I opened it up there was a almost finished sweater to unravel & 4 stitch markers! Woo Hoo!! I have no idea what I will make with it but the colors are scrumptious & it was a steal! It's baby yarn so it is tiny! I am sure I will have to double or triple strand it.
The band played on Saturday night at this really bizarre show. It was all 60's style bands but they were the only true "garage rock" band. The rest were kind of caricatures of 60's bands. Complete with goofy outfits, lava lamps, black light posters and bean bag chairs. The boys rocked the house! They were the faves of the crowd- with good reason. Unfortunately I forgot my camera. Oh well!
Today we ate at original pancake house. Everyone came away full to the gills. Then we went record shopping at
Wuxtry records
my favorite record store. Ellen bought this awesome Tim Curry record in which he sings "You put a spell on me" and a song called "I'm just working on my tan". It was AWESOMELY BAD!!! She has promised to make me a copy! Isaac & I bought the kinks kronicles on vinyl! 3 LPS! Charles got a beautiful Thee Michelle Gun Elephant 3 lp set on colored vinyl. It was a serious find!!
After they left to go back to Jax we went home & heard this weird siren. I asked Isaac if it was a tornado siren to which he answered "Uh, I think it is". So we turned on the TV & waited. It was indeed a siren as we were under a tornado warning. It was the longest 15 minutes of my life. The weird thing is back when I was in Jax about 10 years ago an honest to goodness tornado touched down about 1 mile from my house. I was in the house & there was no siren. I mean we knew the tornado was there from the news reports but I think the siren made me more scared.
Thank god it passed to the west of us but others in atlanta weren't so lucky. All the remnants of these hurricanes and tropical storms have really done a number on the city. I feel terrible for those people in the pan handle and the coast of alabama. The worst part is hurricane season isn't over til November 1st. UGH!
Tuesday, July 05, 2005
I need to learn to make frames
The
tiny showcase print
this week is amazing!! Do yourself a favor & check it out! It is by an artist that I am blown away by,
Catia Chien
.
I guess we are lucky that the prints are tiny. Otherwise we might run out of room on our walls.
I love lists!
Productive things I got done this weekend:
1. We took our tiny showcase prints to the framers to get them the lovely frames they deserve. Now only 20 days to wait for them to be finished! BOO!
The new print goes live at 10 pm tonight. Yeah, I love
tiny showcase
.
2. Bought a new DUVET cover for our new comforter! I love the word duvet. It's weird in America how we just adapt foreign words for our own.
3.I gave Isaac a haircut. My how sexy he looks with short hair! YUM!!
4. We replenished our supplies for screenprinting. We got lots of good stuff & printed our first new design for the line. It's the bird I drew for our logo but done only in blue. Girly sized T-shirts are at our
etsy shop
. We plan on doing a limited edition 5 print run of a new design each week. Hopefully we can keep it up. It's too much fun!
5. I made an apple pie. As vegetarians we don't do the whole BBQ goodies thing on the 4th (but ah how I miss it somedays). I figured an apple pie was the next best thing. It is delicious (if I do say so myself).
6. I've made progress on the two swaps I am in on
craftster
. I'm working on the thrift store painting revamp round II and the favorite children's book swap. My thrift store painting this round is hideous but I think I have decided on a path to lead it to loveliness.
My childrens book is the Butter Battle Book by Dr. Suess. Tons of possibilities!! I've already made 2 items and I just need a few more. I was planning on laying off of swaps for a while but there is a Wes Anderson swap starting up! I ADORE WES ANDERSON!!
7. I knitted. Yeah I know that is a pretty lame knitting update but I am plugging away on my accidentally on purpose. It's a long road of stockinette stitch. The lovely
Sandra
in her super hot finished version is my inspiration.
Well, there is more but I feel a need for apple pie a la mode now!!!!