Thursday, July 14, 2005
So the new interweave knits rocks my socks!!
I was in Michaels today picking up embroidery floss to work on one of my projects for the "Favorite Children's book" swap on craftster and I saw the Fall interweave knits. The Union Square Market pullover on the cover immediately caught my eye as it has such a Star Trek: Next Generation look to it. The Weekend Getaway satchel blew me away!! I am a sucker for huge felted bags.
Other knits I adore: The felted floral Capelet, Greek pullover, Vintage inspired jacket, the brioche helmet hat & the canteen bag! WHEW! I've never bought a knitting magazine where I loved so many patterns.
I think my first knit from it will be the fingerless mitts. They would be great for cold weather camping when I want to knit or for all those outdoor shows we will be playing in the dead of winter. Yeah that one is a longer shot & yes I do take knitting when we go back country hiking. I take the knitting & I take fewer clothes to compensate for the weight. After all a couple of days into it everyone smells so bad that clean clothes don't really matter much.
In other news we are only 24 hours away from the new Harry Potter book. Yeah I am that much of a dork that I made t-shirts for us to wear to the release. Here is mine:
Sorry for the dirty mirror. It says "Weasley is our king". I was inspired by a post on craftster. Isaac's shirt is still drying. I used the quote from the marauders map "I solemnly swear that I am up to no good". Also not my original idea (thank you craftster). I will post a pic tomorrow. They turned out really well if I do say so myself.
Also on the agenda today: making a tart. I used
this recipe
from NPR, yes I said NPR! I heard a story about it a week or so ago & it really stuck with me. So here is my first forte into tartdom.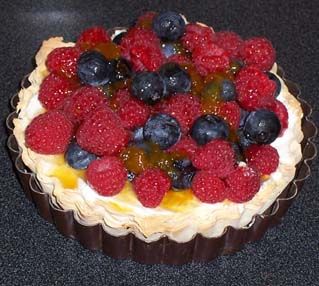 It was really simple to make & so yummy!! I highly recommend it! There is no better way to eat fruit than with mascarpone cream! It's heavenly!
Comments:
that tart looks soooo good. I definately have to try it out.
and i love the t-shirt! even though i don't get it. I'm actually a harry potter virgin. I have never read any of the books or seen any of the movies. Can you believe it?!?!?!?
and oh my gosh, did you see the tiny showcase drawing for this week with the giraffe swing?!?! It is amazing. I missed out on it. Were you lucky enough to snag a copy?
Post a Comment
<< Home