Tuesday, May 31, 2005
Home again home again jiggity jog
So I survived my 3 day weekend in J-ville. It was good for the most part. I managed to see my whole family and since my mom & my sis were never together so there was no major fighting. I got a haircut, did some thrift sto' shopping and got to get a LOT of knitting done.
On the knitting front I finished the bottom of my skull bag. Hopefully I will cast on the handles tonight! I can't wait to felt it!!!
Lisa
posted about how odd it is to be beyond excitement to work so hard on something so big just to shrink it. My step mom was amazed at that fact as well. Maybe it is because I never got shrinky dinks as a kid. I was so deprived!!
On the thrift store front I got a painting for the thrift store revamp part II.
She is quite lovely and hopefully my partner will do something spectacular with her.
Channon received my "last supper" revamp & said she loves it!! YAY!! I am really glad!
I also bought 2 great crafty books this weekend. I got a copy of vogue knitting from 1972. It has pages & pages of stitches I have never seen & a ton of lace patterns. Amazingly the patterns for the sweaters, bags and bikinis are really cute & I may modify a couple to make them.
I also got the "McCall's big book of childrens art activities" from 1952. It has the COOLEST illustrations & some really awesome ideas! Over 1000 ideas for $.25 !!!
So I am on the fence about which project to start next. The spiderweb capelet from Sn'B nation or the Accidentally on Purpose vest from Sn'B. I have the yarn to make both but I am torn.....
Any thoughts?
Thursday, May 26, 2005
The end is near.....
Well for my felted bag with skulls anyway!!! I've been working on this bag for 15 days in tandem with
Lisa
and we have both been wondering at what point to start on the bottom. The pattern is from
Glampyre's
amazing site. I love that you can really make it your own with the striping and the colors but there is no instruction on when to start the bottom. She uses a CD in a picture for scale. So I decided to measure it. 23 (or so) inches is the magic number. Well mine is already 24 so....... WOO HOO!! I'm starting on the bottom!
Here are the progress pics:
A close up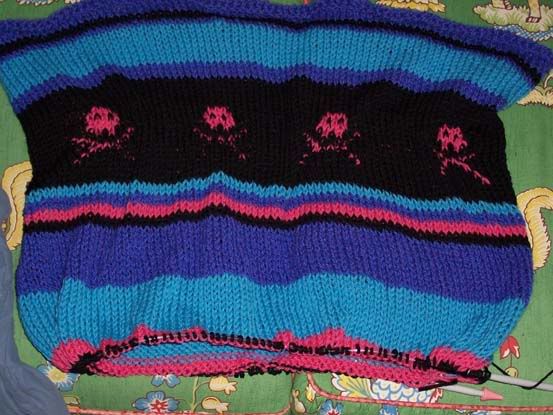 And a pic with my 12 lb. tom cat Max to really show the scale. Please excuse the totally weird pattern of the free couch (It is an amazingly comfy couch & I keep meaning to get a cover for it)!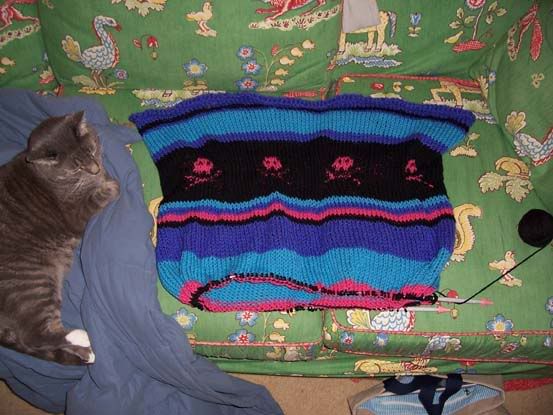 I'm going to do the bottom in the blue & the blue/purple.
Of course there are still handles and all those damned floats to tie off but the finished product is so close now!
In other news tiny showcase sold out there latest print in less than 24 hours & I got print NUMBER 1 (I told you I was obsessed)!! All the proceeds went to the
ASPCA
. I am so glad that so many people are finding their site and supporting them! They are really cool people with a passion for bringing new artists to the forefront. I am glad to support them!!!
Tuesday, May 24, 2005
My latest obsessions
So I have been really busy this week. It's the end of the school year and I have endless exit assessments to write and 4 weeks of camp activities to come up with! BLAH!!! I have been drinking at least one enormo-sized dunkin donuts iced coffee a day (sometimes 2) and they have barely been getting me thought the day. When oh when will there just be a caffeine injection?
So I'm really excited about the thrift store revamp swap I just finished on craftster. I was sent this picture.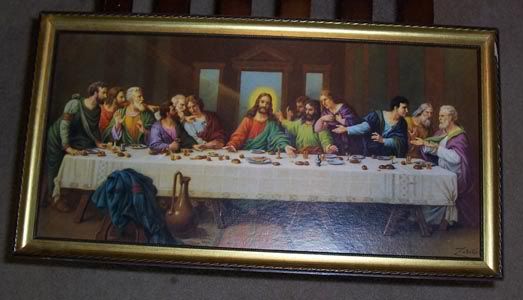 I was both intrigued and a tad bit worried about working with a religious picture. I am not religious but I wanted to do the idea of Jesus justice- just because I'm not religious doesn't mean I have something against him. So this is what I did: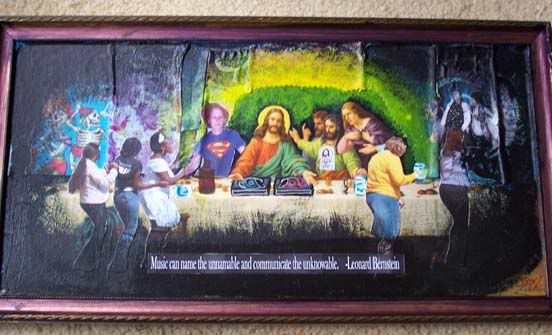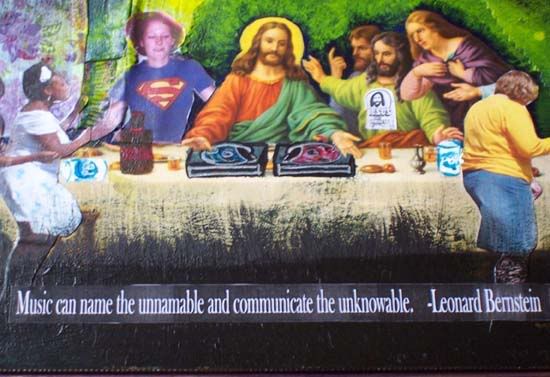 The idea came to me when I was on a fashion website with models wearing "Jesus is my homeboy" t-shirts. I thought he needed a good reason to be with his peeps.
Lisa
is the only person other than Isaac (who is decidedly biased I might add) to see it yet. She gave me some lovely words of praise (get the pun) and made me feel really good about the choice I made with it! I really hope that Channon (the crafster receiving it) will like it.
Beyond caffeine I am obsessed with
tiny showcase
. They have the most amazing quality prints at the best prices. Most are $12.00 and mind you they are only 5X5 or so but they really are AMAZING!!! They do a new print each week and I think I am addicted to buying them! Maybe I will cover an entire wall with them.
The skull bag is coming along slowly but nicely. I am sure to have plenty of time to finish it up as Isaac left today for 3 weeks of tour. I miss him terribly already but I know he loves doing tours and will have a great time. It's just not the same here when there is no odd cassio sound or super loud guitar blaring from the back room. Luckily with laptops, wifi & cell phones I talk to him all the time but I still have to make my own coffee and miss nightly walks and snuggles! Boo!!
Thursday, May 19, 2005
So much for progress
Yeah just when I thought I was knitting up a storm on my fair isle skull bag.... I have only knitted 4 rows in 2 days!!!
In my defense I was making a swap angel package for Aada who got flaked out on for the Law & Order swap AND I had the best time "revamping" my last supper thrift store picture for that swap. Man it is gonna be hard to give it up! I really hope Channon likes it! I love the way it turned out!!
Earlier in a very rare lull in work I was randomly scrolling through blogs here on blogspot & wondering "With so many knitting blogs how long will it take to find one". The answer (for me and at that time) was
15
. I found
yarn envy
. A very nice little knitting blog.
She had this posted which I think is awesome & a weird coincidence!!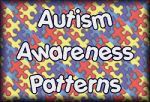 On the way to yarn envy I found a blog "written" by a woman by "narrated" by her dog who is battling cancer, a blog "written" by a super hero about his love life, a blog detailing the lunch of a "Mr.x" (yep his entire blog was what he had for lunch everyday) and the blog of a young woman (she said 17) who is a devout baptist and obsessed with getting married.
I also found a ton of blogs in foreign languages. It was an interesting afternoon.
I have also been obsessively over
this post
on craftster. The post is locked now but the author started a thread about loving walmart and basically said that even though walmart is an evil corporation we should all just get over it as "resistance is futile" (she really did say that and yes my star trek geeky self had to suppress a laugh). It really amazes me that so many people are so willing to just lay down and say "I know this is wrong but it's cheap & easy and if I don't buy from them it won't really make a difference". Yeah my business doesn't make a difference to their bottom line but it makes a difference to my conscious.
I know that you can't convince someone whose mind is already made up (just like she couldn't convince me to change my view) but it amazes me how little respect she had for the idea of change. I guess it shouldn't as most of the country agrees with her.
It really makes me sad since there are such simple things you can do to really impact the world around you but most people just don't see it or don't care.
It really solidifies my faith in the way I live my life and the choices I make as a consumer.
This is a great resource for being a conscientious shopper
responsible shopper
Tuesday, May 17, 2005
Progress is a good thing.
For
Lisa
as I don't want her to waste away in anticipation!!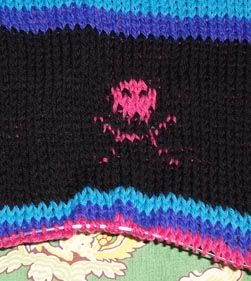 My skulls don't look as wonky as the pic does but I haven't cut & retied the floats yet so it doesn't lay completely flat. I'm very please with my progress thus far. It's only been a week since I cast on & the bag is moving a lot faster than I anticipated.
Now to decide how long I want to make it.....
A long time ago in a galaxy far far away
Sunday night we had the opportunity to see a band called "Grand Moff Tarkin". Any true star wars geek will know the name was taken from Peter Cushing's character in the original trilogy. Words cannot describe the amazing show we saw so here are some pictures:
If you are in Atlanta tomorrow night they are doing an instore at
Criminal records
at 8 pm.
I
HIGHLY
suggest going!
In knitting news I am about 45% through the fair isle bag. Sadly with no photo update! My skulls are finished and I have done a fair number of stripes as well. I
WILL
post a pic tonight!!
If you see a movie called
Lipstick and Dynamite
playing near you check it out. Right now it is only showing in Atl & San Fran but hopefully it will be in wider release soon. It is a movie about the first female wrestlers in America. Some of these ladies were doing some serious eye gouging way back in the 40's. It is a really interesting film. We were lucky enough to be at a screening with the director and a couple of the wrestlers and they were bright and funny. I hope I am that with it when I'm 84!! It was impressive to say the least!
Saturday, May 14, 2005
My baby likes to boogaloo
So I was all about knitting last night then our friends from FL got in early and so we ended up going out early. The plan was to hit the
earl
right before
the woggles
went on but we ended up seeing both the opening acts as well. They were pretty good but nobody beats the woggles!! They are a local ATL band & man can they put on a straight up rock n' roll show! They are friends of ours & I've seen them tons of times but their shows never get old! It is like a major dance party! I'm totally zonked today!
I got a ton of the felted skull bag done today (well half of the rows for the skulls). Here is my progress as of last evening (this is right before I started the skulls).
I will post pics of the rest tomorrow. Isaac has the camera right now.
My skulls are super hot pink (flamingo to be exact) and look so cool! I found the best skeleton fabric at hancock fabric today. I am going to use it to line the bag. I also found amazing dia de los muertos fabric. It is bright & busy but the skeletons will be great for applique!!
Thursday, May 12, 2005
So scientists aren't sci-fi geeks?
I really have to wonder if no scientist ever read an sci-fi book or saw a movie
Why we're all doomed:
self replicating robots
Personally I think I'd rather have the end come via zombies but that's just me....
Slower than molasses
So it's only 10:10 am but I swear it feels as if I have been at work forever!! Today was the scheduled day to up Elizabeth's medication (which has a side effect of making her drowsy) and now she is totally conked out. She actually fell asleep sitting upright at her table. Poor girl. I moved her to the sofa & will let her sleep for a little while. Hopefully it will be a more productive afternoon.
I got rather exciting news when I got to work. I have been asked to knit up some mini purses & mini clutches to sell at a fundraiser for
children's health care of Atlanta
. Which is an amazing hospital that provides high quality health care for children at no cost. I am so thrilled to be able to help out. I will make a little money on each item sold so I can at least cover the cost of yarn. Ah knitting with a purpose!
Last night I finished up my second medium bag from the
one of a kind Canadian design
.
The first one I made for the wish swap on craftster. Theresa received her package yesterday so now I can post pics.
Here's the purse: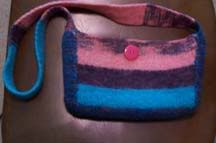 The lining:
And the extras that I made. A cell cozy, a knitted pouch for eye glasses or money and a hello kitty charm bracelet.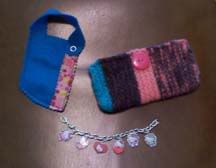 I also finished a mini clutch in hot pink for the color swap. I used cascade 220 in flamingo & lion's brand fun fur in raspberry.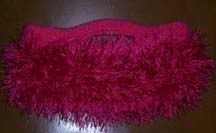 I cast on my felted bag with fair isle skulls last night! HURRAH! I got about 2 inches done before I was too tired to knit anymore. I can't wait to get home & knit! Yes, I'm obsessed! I will post a pic later tonight.
Isaac is making dinner tonight & he is a surprisingly good cook (for someone who really never cooked anything outside of camping til he was 26). Peppered tofu over angel hair pasta with this really yummy truffle oil! YUM!
If I'm really lucky we will have time to walk down to Jakes to get some ice cream. They have the best flavor. Mexican hot chocolate. It is this perfect blend of milk chocolate and cayenne pepper. I know it probably sounds terrible but it is the best!
Wednesday, May 11, 2005
myspace not just for hooking up anymore.....
I just got an interesting message on myspace. It was a guy in his early 20's who has recently decided that he suffers from Aspergers which is a high functioning form of Autism. Aspergers wasn't definitively labeled until the 70's so there isn't much information out there. He contacted me because a search of myspace yielded him 2 people who work with Autism/developmental delays. Me & and a girl in philly named Becca who I actually keep in contact with to discuss ideas for kids we work with. He has asked me to help him get a better idea of Aspergers and to help him figure out the next step in the process of getting an actual clinical diagnosis.

I really wasn't sure what to tell him. Professionally I can only direct him to groups that will help him or websites. It just feels strange as I have never worked with or actually met someone who was that high functioning or who had diagnosed themselves. Honestly I thought he might be joking but as I check out his page & blog he is really serious. I can't imagine being in his shoes and deciding that I was so disconnected socially and so void of empathy & understanding that I would search out a reason for it. I mean those are actual words he used.

What he describes does sound like Aspergers. It's just so odd to me.

He lives in Canada so why hasn't he seen a doctor? Why is he searching for help on myspace. Those seem like logical questions but if he really has aspergers looking on myspace might seem logical to him.

I suppose I am going to do some googling and see if I can come up with any information for him. We'll see what happens.....

Tuesday, May 10, 2005
How about some knitting content
So, I am still at work & pretty bored. Liz is entertaining herself with her keyboard & a karaoke machine which is a story within itself BUT... I am here to add knitting content to this "knitting" blog. If you frequent craftster this may be old news to you but all my new FO's & WIP's are at home so...
Here are some things I have finished in the past month (or so). Knitted & knitting related.
A "roll your own needlecase" for my mom (from
stitch n' bitch
).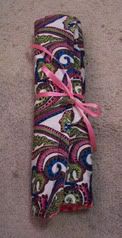 A branching out scarf from
knitty
). I used cascade 220 in bluebell. I Love the scarf in this color! Thanks to
Sandra
for starting the KAL on craftster.
A sophie bag from
magknits
. I used cascade 220 in celery for this (yes, I really like that yarn). It is so amazing for felted purses.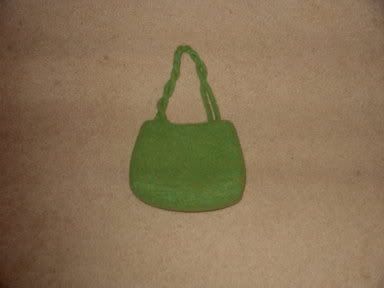 I also made use of my husbands geeky past by using his old 12 sided die from D&D as toppers for my handmade needles.


I dyed some lion's brand fisherman wool with Kool Aid & got this: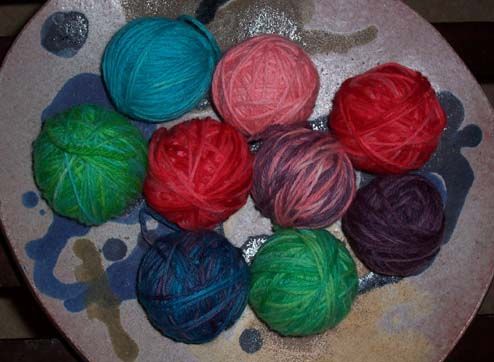 I used the purple, pink & blue for a purse I made for the wish swap on craftster. I mailed it on Saturday & will post pics as soon as pibbgirl gets it.
The yarn dying process was so easy & really fun! I felt like I was back in high school chemistry class. I wasn't satisfied with the colors after the first round of dying (I really wanted something vibrant as I planned on using the yarn for a felted bag). So after the yarn took all the dye in the dish I rinsed it, let it cool & dyed it again. I was able to get some very cool variegated yarn this way.
Lastly I made Roger. My pirate goose niddy noddy.
He got an exteme make over from this: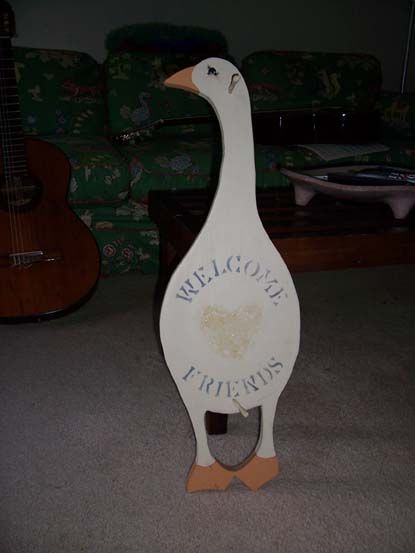 To this:
I really needed a niddy noddy as the only chairs in our house are very cool vintage chairs from the 50's inspired by the whole eames art movement. So without a chairback & with a husband who is a great noddy when he is there (but often is working when I need a noddy). I decided to make Roger. He is techically a jr. noddy as he is half the size a regular noddy is. I found him at a thrift store for a dollar. Two nails & some spray paint later & he is a new goose! A much happier goose I am sure!
So now I feel better. Like this isn't some wannabe knitting blog with no knitting on it what so ever.
Monday, May 09, 2005
Such a perfect day, drink sangria in the park....
So today was a really good day!
I wore my new thrift store find skirt.
Can you believe someone made that & then gave it away??? What a world!
I took a trip to the LYS & got decided on the colors for my
felted bag with fair isle skulls.
I decided on using up the Baghdad blue I ordered from
Peace fleece
and 3 colors of cascade 220- black, bluebell & flamingo.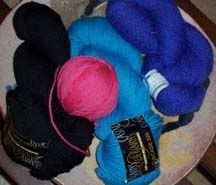 My new craftster peep
Lisa.
is going to knit it up with me. It will be great to have someone to bounce ideas off of since this is a
BIG
project.
When I got home from work this was waiting for me:
My husband is the most amazing man ever!! Along with the tulips were 2 tickets to
music midtown.
. MM is a huge festival here in ATL that usually sucks but... This year RAWKS!! The lineup includes the pixies, lou reed, the white stripes, joan jett & the blackhearts, devo, common, interpol, the killers, keane & so many more! Plus I just found out that we will be going to see Dinosaur Jr. in July! Woo Hoo!!
So many good concerts this summer. Ted Leo, Built to spill, Elvis Costello, Alice Cooper & Cheap Trick. The list goes on & on. It's gonna be a busy summer.
Well, my felted hot pink bag should be done felting now. Hopefully I will get pics up tomorrow!
Sunday, May 08, 2005
Dark days
So Isaac & I went thrift store shopping today & found a used copy of the movie "Dark Days". It's a documentary about homeless people who live in the Amtrak tunnels under New York city. It is a really beautiful, haunting & thought provoking movie. It made me feel like I had lead a sheltered life. Which in all reality is far from true. I think everyone should see it if you get the chance.

In the world of knitting I just finished up a clutch that I need to felt. It is for the color swap on craftster. Pics to come.