Tuesday, May 17, 2005
Progress is a good thing.
For
Lisa
as I don't want her to waste away in anticipation!!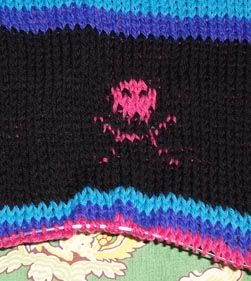 My skulls don't look as wonky as the pic does but I haven't cut & retied the floats yet so it doesn't lay completely flat. I'm very please with my progress thus far. It's only been a week since I cast on & the bag is moving a lot faster than I anticipated.
Now to decide how long I want to make it.....
Comments:
Schweeeet!
My skulls look a bit wonky too, because I haven't tied off my floats yet either. I'm thinking that maybe I should do that a little at a time so it doesn't seem like such a momentously awful task.
I wish I had one of those kiddie knitting machines to do the handles! I'm thinking maybe I'll do some of that slip stitch double knitting stuff for them instead of knitting a tube in the round.
I'm proud of our progress!
Leah,
Love the progress on your bag. Nice colors. I can't wait to see the FO.
Totally off topic: I noticed you're in ATL. Would you happen to know of a certain "Big Chicken"?
Post a Comment
<< Home