Tuesday, August 30, 2005
Malaysian tofu curry & crafting for a good cause...
So I popped into
etsy
this afternoon to check out what's new. I found that the lovely folks at
craft revolution
have set up a shop to sell items donated by kindhearted crafters who want to help out with the
red cross
emergency relief fund. I immediately snatched up the "Crafty swag" set donated by Leah at
craftster
. The esty shop is full of items in need of new homes & there are thousands of people who are very much in need. So click on over to
craft revolution @ etsy
and or the
red cross
. Even penny helps!!
Ok on to Malaysian tofu curry!!
Ingredients:
2 boxes extra firm tofu -well drained
2 15oz. cans of UNsweetened coconut milk
2 teaspoons light brown sugar
Salt
1 tablespoon coriander
2 teaspoons curry powder
1/2 teaspoon turmeric
1/4 teaspoon cayenne
1 teaspoon taramind paste
2 large garlic cloves minced
1 tablespoon finely chopped ginger
4 roma tomatoes, seeded & diced
4 scallions, including the greens chopped
Juice of 1 lime
Drain, then dice the tofu into 1/2 inch cubes. Combine the coconut milk, sugar, 1/2 teaspoon salt, spices, tamarind paste, garlic, and ginger in a medium skillet. Boil for 1 minute then add the tofu. Lower the heat and simmer for 10 minutes. Add the tomatoes and the scallions and simmer for 10 minutes more. Add the lime juice & salt to taste.
Serve over rice, egg noodles or linguine.
YUM!
What is the meaning of life???
That is the question my friendly neighborhood Jehovah's witness just left me with. It's funny his name is Mark & he comes by once a month. Last month's pamphlet was about living forever on earth & had some really incorrect/offensive (in my opinion) things about Judaism written in it. You might be asking why I even answer the door. Well the house has French doors so by the time you can see whose at the door they see you too & I just feel way too bad to just walk away. I always take his pamphlet & remind him that I am caring for a disabled child & can't talk. I wonder what the watchtower will tell me the meaning of life is.....
I'm sure Mark wouldn't approve but Sunday night we saw
the aristocrats
. It was a really great, really funny & completely offensive movie! I HIGHLY recommend it!
Last week was a good mail week. We got our recording of the pixies music midtown performance from
the show
. The CD sounds amazing. You would never know it was a concert with 20,000 people. There are still CD's available for lots of the dates at
Pixies discs
.
We also got our latest print from
tiny showcase
. They have a new print up tonight!
Sunday was spent working on recordings for the new
Cyanotype
CD. The demos are sounding nice (if I do say so myself). I think we have found an artist to do the cover art. Her name is Sally Harless & you can check out her work at
Sadly harmless
. I adore her
Captain Snarleyhook vs The House of Brontosaurus Rex
print!!
In knitting news I'm on the last sleeve of the one button cardi. Now to finish that up, seam the sucker & pick up 256 stitches! EEK!!!
Oh & for those who were interested I will put the Malaysian tofu curry recipe up tonight!!
Saturday, August 27, 2005
I LOVE Isaac!!!!
Last night my amazingly wonderful husband bought me a present. One of the most thoughtful presents he has ever given me. He got me a set of Denise interchangeable needles!!! I was telling him that I needed a couple more circulars for the ballet tee & the lace leaf pullover and I was lamenting the cost of buying so many circulars in different lengths. We started talking about Denise needles & how when I tried a pair I really liked them. He told me I should get some but I felt really bad spending the money when I spent so much on yarn a few days ago.
So when I got home last night there they were. With a little love note. He actually went to the Denise website to find a store in Atl. that sold them & then went to a Yarn store by himself to buy them!! He really is considerate & wonderful!
Now I really want to cast on to something with circs but... I'm holding out! I want to finish up my other projects first.
Speaking of other projects here are some pics of my one button cardigan from knit.1.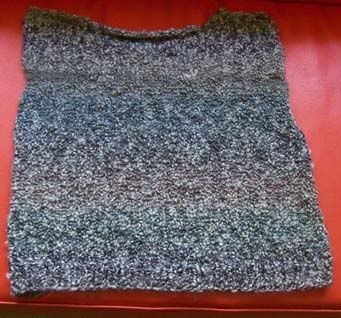 The back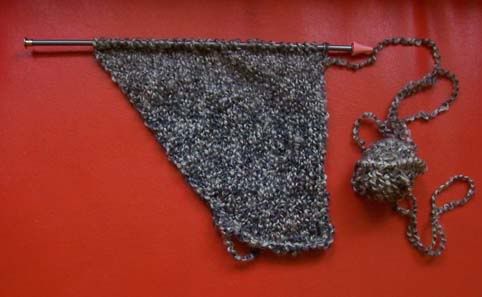 The bottom of the left front
I love the semi-self striping pattern that this homespun makes!
I finally got around to putting pictures of our tinyshowcase.com pics up in the
flickr owners pool
Lastly for your viewing pleasure, pictures from my lazy saturday...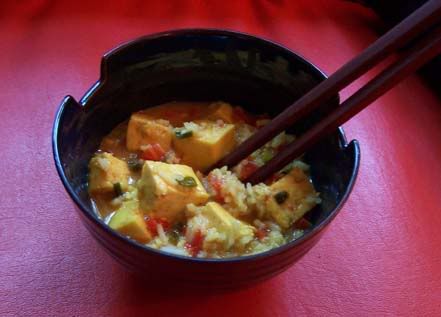 Malaysian tofu curry- our dinner last night! YUM!!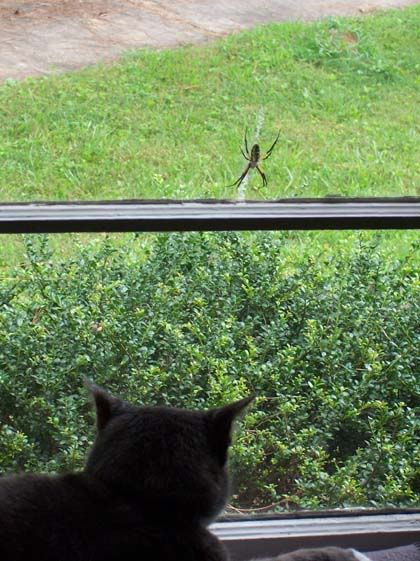 Max & his new friend the banana spider. He loves to sit at the window & watch this spider spin his web. It's very cool.
Wednesday, August 24, 2005
All day I dream about S.E.X.
Stash Enrichment eXpedition that is.
So I went to a new yarn store yesterday. It's called Why not Knit & the ladies were lovely! Welcoming & very easy to talk to. I ended up buying yarn for all but one of my projects in the queue.
With the encouragement of
yahaira
and
byrony
I got the Rowan Polar for the lace leaf pullover from loop-d-loop. I got it in red hot which is a really great fall red. Not too bright, not too orangey!! Plus at $8.00 a ball it was a steal!
I also got some brown sheep cotton fleece for the ballet tee (also from loop-d-loop). I got it in a really great steely grey blue called Rue.
I still need to get some yarn for the fingerless mitts.....
I probably won't start any of these til' I finish up the cardi I am working on now but I do plan on swatching for the lace leaf pullover tonight.
Oh & before I forget, camping pics are
here
.
Monday, August 22, 2005
Some finished objects
So I've finished Lelah! It was a really fun knit! Thanks to
Christine
for the lovely pattern and
Jessica
for the pattern mods for a small.
So here she is:
Knit up in slate blue cotton ease. I think I will make the next one in some lovely soft wool.
I'm also posting a link to my SUPER SECRET swap knit. SO.... if you are Jade/my partner in the Wes Anderson swap & you don't want your surprise ruined, don't click
here
.
I've also cast on to the one button cardigan from the last issue of knit.1. I'm using the recommended homespun in a color that is actually nice (it's a variegated green, purple, grey) called romantique. I'm making it for a friend who saw the pattern, doesn't knit & has no use for sweaters that need to be hand washed.
I've also been working on picking out a substitute yarn to knit up the lace leaf pullover from loop-d-loop/IK. I'm thinking of using rowan polar as the ladies at my LYS have a surplus of it & I may be able to get it for a deal. There is lots of talk about it over on craftster. I'm eager to see how all these sweaters with sub. yarn turn out. It seems that no one is using the recommended yarn for this one. It is pricey & my yarn store peeps made it seem not so comfy.
Oh, now it's time for Anthony Bourdain! SWOON!!!
Monday, August 15, 2005
There's a taste in my mouth and it's no taste at all....
So, I'm recovering. From what you might ask. Where do I begin???

*From having my wisdom teeth removed this morning. It really wasn't as bad as I was expecting. Mind you I am still totally numb & have already taken vicodin (as prescribed thank you). I'm sure it will hurt later but it's not so bad now. I've got my laptop & I'm watching star trek TNG. Isaac told me to be careful watching it as I'm taking such heavy pain meds. It may induce some interesting hallucinations.

I'll keep you posted.

*We had my dad's surprise 50th birthday party in jax over the weekend. It may be the vicodin talking but I swear I can still taste the combo of tequila shots & corona's. Before I give anyone the impression I am a lush let me tell you I do enjoy a glass of wine or a Newcastle once or twice a week. My stepmom was INSISTENT that I keep drinking. We started at about 5pm & got home at 3:30 am. Seriously my family knows how to party. We ended the night at my dad's usual drinking spot - the local American legion. That was the most fun. All the patron's were really fun & kinda wild.

After all that I promise I will put pictures of the party & camping up later this week. You HAVE to see the pictures! We also have video. Maybe Isaac can help me put that up too.

I wore my accidentally on purpose to the party. It was a huge hit! My sister even requested one. Maybe I can finish it by christmas.... ugh!

So I am off to knit on lelah. Thank goodness I'm done with the lace patterns- that way if the hallucinations get the better of me I won't have to frog the whole thing! :)

Wednesday, August 10, 2005
My how time flies!!
So this week is already a blur!!
Camping was AMAZING! There is absolutely nothing in the world that compares to being in the desolate wilderness with Isaac. Just let me say this- I LOVE MY HUSBAND!!
Friday night we camped in a gap (valley to all you non-backpackers) and the view of the stars was beyond words!! We saw a meteor shower and the milky way! Saturday we hiked to the super secret eagle scouts only swimming hole (yes, Isaac was an eagle scout). It is so serene there. I wish we could live in the woods! Blueberries and snuggles were abundant. I will post pictures on my flickr account tomorrow.
In other news I finished my super secret craftster knit!! It ROCKS!!! I almost want to keep it for myself but I will restrain! I also finished all the lace repeats for Lelah! It's such an easy lace pattern. I have the feeling I will be making more of these!
Oh &
Secret pal 6
is up for all you knitters or crocheters!! Thanks to
Erin
for the heads up! If anyone needs a gmail invite for this just let me know!!
Cyanotype
news has been hot this week! The CD and shirts are selling well at
etsy
and there has been a flurry of interest and new reviews! YAY! My favorite is at
Pale bear
. Not only is it a great review it was unsolicited!! What a bonus! They also did a review of some of Susie's aka
boygirlparty
band Snoozer's stuff. I am obsessed with her
"Winter stops"
ep as well as a mixed CD she made me for a craftster swap! We also found a cyanotype link on a blog from the UK that is a person neither of us knows!! It's really gratifying to see the fruits of all our labor!
I especially like that they compare Isaac to Lou Reed!
Oh & I am slightly obsessed with Anthony Bourdain & his new show on the travel channel
No reservations
.
Why is it all my crushes are on guys who are older, dorky & from the North? Hmmmmm?
Tuesday, August 02, 2005
Yay for baby pictures!!
Here he is, Coen Archer Maurice...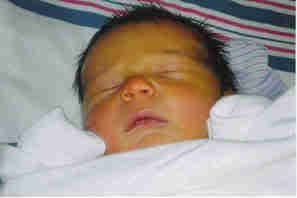 He's a cutie huh- not that all babies aren't.
In other news I am almost finished with my "super secret swap knit". It is SO COOL (even if I do say so myself). I haven't worked on Lelah at all since the first night. I am only one row into the lace with at least 7 more to go. It seems like a quick knit so hopefully it won't take me too long.
I've been so bombarded with work getting ready for back to school that I haven't done anything for our
etsy site
. We have some screens ready & a ton of ideas now we just need more time.
We both have a 3 day weekend coming up! Yippee! Instead of working on crafty stuff we are going up to North Carolina for one last camping trip this season. Pisgah wilderness is our favorite place in the world. I'm looking forward to picking wild blueberries, apple cider, snuggles in the sleeping bags and staying up past 8pm with a rousing game of scrabble.