Tuesday, August 02, 2005
Yay for baby pictures!!
Here he is, Coen Archer Maurice...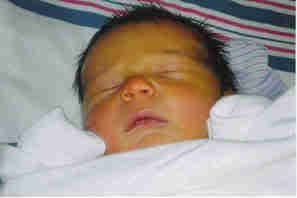 He's a cutie huh- not that all babies aren't.
In other news I am almost finished with my "super secret swap knit". It is SO COOL (even if I do say so myself). I haven't worked on Lelah at all since the first night. I am only one row into the lace with at least 7 more to go. It seems like a quick knit so hopefully it won't take me too long.
I've been so bombarded with work getting ready for back to school that I haven't done anything for our
etsy site
. We have some screens ready & a ton of ideas now we just need more time.
We both have a 3 day weekend coming up! Yippee! Instead of working on crafty stuff we are going up to North Carolina for one last camping trip this season. Pisgah wilderness is our favorite place in the world. I'm looking forward to picking wild blueberries, apple cider, snuggles in the sleeping bags and staying up past 8pm with a rousing game of scrabble.
Comments:
Awe yes, Coen is adorable. But you're right, aren't all babies?
I hope you guys have fun camping! You make it sound so appealing with picking blueberries, cider and snuggling. Too much fun! Take some pics, would ya?
xoxo
Amy
Post a Comment
<< Home