Monday, November 28, 2005
Food hangover
Our little trip to j-ville was lovely but I seriously think I have a food hangover. Or maybe it is all the wine I drank. Eek!
It was wonderful to spend so much time with family & friends. Tons (and I mean tons) of great food and good conversations. Our "turkey" was fantastic!!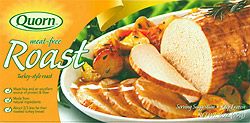 Although it is a technically a "fungus" the quorn roast tastes a lot like turkey! Yum, fungus!!
I also got news that my miyazaki swap angel package has arrived & was well received! Here is my favorite item:
A totoro hat!! I love totoro & have been thinking of making this hat for awhile now. the pattern can be found
here
I'm almost finished with one side of the scalloped bag from handknit holidays. I did 3 repeats of the scallops & I found a really cute pair of handles at the fabric store in jax.
I also finished the
"anthropologie inspired capelet"
from crafster's own lovely
julsey
!! I had exactly enough rowan polar leftover from my lace leaf pullover to make it! I wore it on thanksgiving & got lots of compliments! I promise to post pics soon (I just need to get some new batteries for the camera).
Now, to decide what's for dinner, Life cereal or a grilled cheese? Hmmmmm! Decisions, decisions!
Thursday, November 17, 2005
If I had it to do all over again!
Off to Actionville
Of course we still have our midnight screen of the new HP movie tonight! YAY!!
Tomorrow we are heading down for the
Cadets
reunion show which is more importantly a benefit for our good friend Brian. He has brain cancer BUT, he was also given a really good prognosis.
I really love the flyer for the benefit:
I probably won't get much knitting done on this whirlwind trip (down for 2 days back to Atl for 3 then back to Jax for 5 days) but I am almost finished with my second pair of fuzzy feet. I'm knitting them in cascade 220 in chocolate and using the bluebell left over from the last pair on the heels and as a stripe at the toe. They are looking pretty good if I do say so myself!
Carrie
was kind enough to inquire about the modifications I plan to make to the scalloped accessory pouch from
Handknit holidays
. For reference here is a picture of the pouch in question: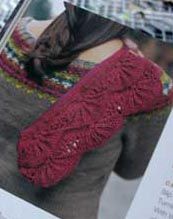 A fine little accessory pouch to match the lovely but gargantuan carpet bag seen here: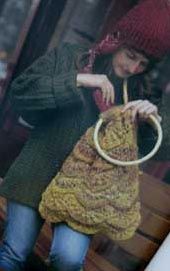 The carpet bag is too big & the pouch is too small but I think I can make one that is just right! I'm going to use
peace fleece
in Baghdad Blue.
I think 3 of the scallop repeats would be perfect! I will probably use a magnetic snap vs. a zipper and I might sew some handles for it in a matching fabric. Who knows! There are so many possibilities!
For now it's time to find my house scarf (yes, I have a HP house scarf) and get ready to stay up til 3 am watching Harry!
Oh & the great $10
Threadless
sale will be going on for 3 more weeks! They usually put up new shirts & reprints on Mondays so check back often!! Feed your addiction (that way I don't feel so bad about feeding mine)!
Tuesday, November 15, 2005
Just a couple of finished felties....
I finished my first pair of
fuzzy feet
over the weekend. They are a fun quick knit (it was maybe 4 hours of total knitting time for both socks) and are a really great basic sock lesson.
Before felting:
After felting:
I also whipped up a purse as a Christmas gift for Isaac's cousin. No pattern. I just did it off the top of my head. It has a slight basis in the
Sophie bag
(as far as knitting in the round & using decreases for shaping) but I just cast on & knit til it looked good.
I'm going to do some embroidery on the flap to give it a little extra cuteness.
In the knitting queue there are one more purse & pair of fuzzy feet and then I am going to indulge myself with a project just for me. Using her great powers of mind control
Yahaira
has convinced me (
like it took any convincing
) to knit up a modified version of the scalloped bag from
Handknit holidays
. This book has some really great patterns & the scalloped bag is one of my favorites! Hopefully I will finish up my Christmas knits this week so I can start on it.
Other exciting news this week-
Harry Potter and the Goblet of Fire
opens! YAH!! We will be in Jax on Friday night for the big
cadets
reunion so we won't get to see it then. I guess we will just have to go to the midnight screening on Thursday. I know it's dorky but is it really any worse than when we went for all 3 LOTR movies or the other 3 HP movies? Probably not!
Oh & big shopping tip!!
Threadless
is having a $10.00 t-shirt sale. I bought 10 shirts yesterday (as Chirstmas/Hanukkah gifts thank you)! It's a really great deal & all their girly shirts are printed on
American Apparel
shirts which are made in the USA & sweatshop free. So you can get very cool shirts, have the best gifts, be the envy of all your friends & support fair labor!! It's a win-win situation!!
Tuesday, November 08, 2005
I think I hastened spring too quickly~
My armwarmers are finished!
I used one skein of Noro Kureyon and size 7 dpns. I adore the fact that the use of one skein means the stripes don't match up! Of course now that they are finished we are back to typical "fall" weather here in Atlanta & it's 80 degrees outside. I NEED sweater weather!
So apparently other than knitting I am also obsessed with Law & Order. In the past few weeks I find myself watching it more & more. It's to the point that I can tell you when each L&O show will be on any day of the week. It also doesn't hurt my obsession when they play it for hours on end each day.
If one had chosen to do so, one could have watched 11 hours of L&O
straight
on sunday. You will all be happy to know that I only watched 5!
I know
Erin
harbors her own L&O obsession so I'm not alone. Maybe I need to start a "law and order" anonymous support group.
At least if I tell myself I will make sure to knit while L&O is on then I will always have plenty of time for knitting!
Merging your obsessions may also have the interesting side effect of dreaming that you are teaching Det. Goren (Vincent D'Onofrio) from Criminal intent to knit so he can catch a criminal mastermind. Seriously folks, it happened to me.
What about your fuzzy feet you may ask. Well apparently you don't mess with the knitting gods. I was reading the Yarn harlots "meditations for women who knit too much" yesterday and I was thinking of how much I agree with her but when it came to losing needles like losing socks I thought "I've never lost a needle". I chocked it up to my OCD organizational skills & continued reading.
Now comes the part where I guess I shouldn't have been so smug. I have lost my 10.5 DPN's. Yes folks the same needles I need to finish my fuzzy feet. I turned the house, my car, Isaac's car upside down & there are nowhere to be found.
So, the moral of the story is: never think "that won't happen to me" because it will & probably within a few minutes.
At least I have a reason to head to the yarn store at lunch!!
Saturday, November 05, 2005
Just a quick update!
What a banner week for me (in knitting experiences). Not only can I now cable but I am ALMOST a sock knitter!!
I give you 3/4 of fuzzy foot #1!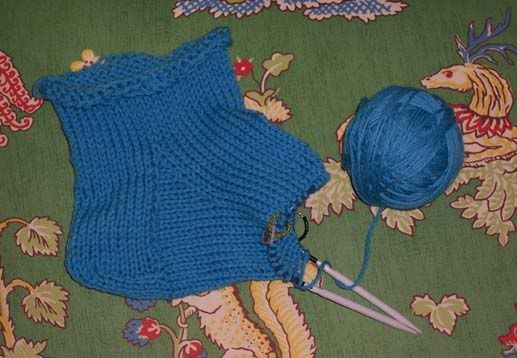 Knit in cascade 220 bluebell (possibly my favorite of all the cascade 220 colors) on size 10.5 needles.
So the whole "heel turning" thing, not nearly as hard as I had imagined! This pattern is really straight forward & they knit up so quickly!!
How about a progress shot on my "hurry up spring" armwarmers while we're at it!
I'm half way through the second one & I think I will be able to get both armwarmers out of one skein of Noro! That leaves one lovely skein leftover!! Ah the possibilities!!
Now off for a night of bad 50's B-list horror movies & scrabble!
Thursday, November 03, 2005
The eagle knits alone.
Today Isaac met me for lunch at a great little pizza place that is in the same shopping center as a yarn store. This strategic lunch choice wasn't only for their yummy white pizza but an excuse to get Isaac into the yarn store. You see a few weeks ago he asked me to make him a winter hat. He had very specific ideas about the ribbing, the colors even the size of the stripes/fair isle. He is a really detail oriented guy- and I love that about him. He is so much so detail oriented that it didn't suffice to say his colors would be dark blue, bright blue, yellow & orange. Nope he had to go pick them out himself which is actually really, really cool!

So we head into the yarn store. Now, keep in mind this is not my usual yarn store, as a matter of fact I have never been to this particular yarn store before but Isaac has. This is the store where he purchased my beloved Denise set. He had already warned me that this store was a little more "everyman" (his words not mine) than my usual yarn store (which he dubbed as more of a "boutique" store).

With the "everyman" description looming in my head I wasn't really sure what to expect. Upon opening the door it becomes very clear to me that in Isaac's mind the "everyman" of the knitting world is a novelty yarn loving, poncho knitting kind of folk. The store is empty sans the two ladies at the counter (both knitting with some sort of "trellis" yarn which I am later informed is for a red hat society function). They both offer help if we need & and let us wander around without provocation. The rest of the stock is pretty standard. A few nice wools, a couple of hand painted yarns and simply way too much novelty & acrylic for my taste.

After a good 20 minutes Isaac has made his selections (the afore mentioned colors in lamb's pride worsted). We head to the counter to pay and as the lady starts ringing me up she mentions the Atlanta knitting guild.

She goes into a huge monologue about how wonderful it is to ditch your husband (this immediately strikes me in the wrong way) and how I will make life long friends and how they all go on a 3 day weekend trip to the N.C. mountains and do nothing but knit and have girl talk 24 hours a day. I think at this point my eyes glaze over & I stop hearing what she is saying.

Isaac mentions something about picking up a little black to go into the hat and runs off to get it. I am abandoned, left alone to defend myself against this very kind but calculating lady who is doing everything she can to get me to join her knitting guild.

Finally after what seems like an eternity Isaac returns, we pay & I take the knitting guild pamphlet and tell her that I will read it over and think about it. As we walk to the car I ask him if it is just me or if she was really overly pushy about the "knitting guild". He just laughs & says "The eagle knits alone". Apparently this situation reminded him of the saying on one of his dad's Harley Davidson shirts- "The eagle flies alone" and he though it was fitting.

I'm not anti-knitting guild. I adore my local stitch n'bitch group and I wish I had more time to knit with them. I'm all for life long friends and I love camping in N.C. Maybe I was overstimulated by all the novelty yarns or strong smell of coffee in the store or her "overzealousness" but it really left me reeling.

I suppose as far as that yarn store & the "life long friends" I would make in the knitting guild goes, Isaac was right. The eagle knits alone.

Wednesday, November 02, 2005
Exciting stuff
I'm finally getting around to the meme that
Eunny
tagged me with last week. It's actually a knitting meme which is really cool!
Even more exciting than that, Lelah at
Woolgathered
is staring a free online knitting zine and looking for patterns for the first "issue". She has it slated for January release. All the info is in the link above if you would like to submit something. I love free patterns & I'm really thrilled that she is putting this together.
Now, on to the meme!
What is your all time favorite yarn to knit with?
Hands down I would choose blue sky alpaca. It is so soft & easy to work with and comes in great colors. I also adore cascade 220 & lamb's pride as they are both really reasonably priced & really versatile.
Your favorite needles?
I love my Denise set like nobody's business. I think it is really the way the cords feel. They are so pliable and easy to use. I also really dig the pair of handmade rosewood straights that Isaac bought for me at a craft show. They are smooth & get the nicest warmth to them as they are used.
The worst thing you've ever knit?
It has to be my first sweater. I went with the basic crew neck sweater from the yarn girls guide. Honestly it didn't look bad unless you inspected the seams or took a good look at my tension. It was too boxy and the color wasn't as good for a sweater as I thought. No (thank god), I don't have a picture to share! This by no means was the fault of the pattern. Nope, it was all poor yarn & an uncertain knitter! Boo!
Your most favorite knit pattern? (maybe you don't like wearing it...but it was the most fun to knit)
I love lace so I have to go with either the branching out scarf from knitty or Lelah.
Most valuable knitting technique?
I don't have any really fancy tricks but I really adore the long tail cast on! Oh & the being able to pick up dropped stitches! I have saved many an item that way!!
Best knit book or magazine?
My beat to death copies of the Mon Tricot dictionary & my vogue guide to knitting. ANTHING & I really mean anything I need answered about knitting is in one of those books.
Your favorite knit-a-long?
I've just joined my first blog kal (the
fuzzy feet along
but I have done a few on craftster. My favorite craftster KAL was the branching out. It was really awesome to see all the different yarns used and all the finished objects. Plus it was the perfect forum for working on my first lace pattern. So many supportive folks.
Your favorite knitblogs?
I also have to echo the loving funny knitblogs with great pictures. My favorites have to be Sandra at
I may be knitting a ranch house
, Yahaira at
Knit fix
Eunny at
See Eunny Knit
and Erin at
Knitters not Quitters
Your favorite knitwear designer?
Stefanie Japel
creates such amazing designs. She is definitely at the top of my list!! I also like Teva Durham & Debbie Bliss (for kids stuff).

The knit item you wear the most? (how about a picture of it!)
This one was easy!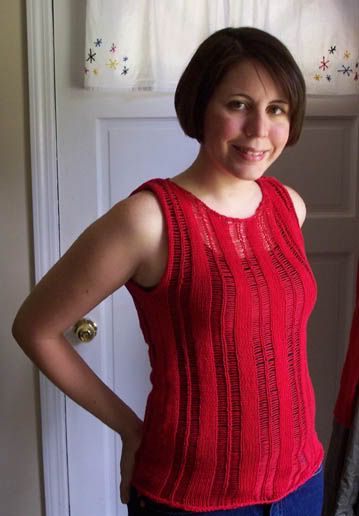 I wear my "Accidentally on Purpose" vest all the time! It is great with a tank top in summer or long sleeves now that it is getting chillier!
Your it!!
I'm going to pass this on to
Erin
(who loves to be tagged),
Kym
and
Lelah
Tuesday, November 01, 2005
Ah, Vacation!!!
So I've been M.I.A. for a week. Sometimes things just get away from me. Last Thursday we left for our anniversary trip to Vermont.
It was amazing! Vermont is beautiful this time of year. There were still fall leaves and it was sunny with a high of 40 each day of our trip. I love vacations where you can just make it up as you go along. Get a loose idea of what you would like to do and leave the rest open. We did a lot of hiking, visited the Ben & Jerry's factory (YUM) went to a ton of antique stores, a couple of local historical houses & of course a couple of yarn stores. I picked up some lovely hand spun hand painted yarn for my secret pal (and some for me too)! It was just what we needed. Fireplaces, hot chocolate, knitting, scrabble, snuggles. My idea of perfection!
I have been knitting up some Christmas gifts this week.
Erin
posted her Christmas knitting list a couple of weeks ago and it got me thinking of mine. Her list had a little variation, mine is just one thing - felted purses. They are fast, easy & look really nice when done. So, if you are one of my friends or relatives & female you are probably getting a felted purse for Christmas.
I took one to work on while we were gone and finished a lot faster than I had expected. With nothing else to knit I decided to try something radical- Cables! I took the leftover yarn from the purse, the DPN'S I was knitting it with & used the internet connection in the lobby of the B&B we were staying at to download a couple of basic cable stitches.
The end result. I can now cable! It's amazing how much easier it is than I ever thought. It is really gratifying to watch the pattern take shape. Of course now I want to cable everything! So last night I cast on the "Hurry up spring" armwarmers from Stitch n' Bitch Nation. I'm using some Noro (as the pattern calls for) in an obnoxiously bright pink, yellow, orange, purple, blue colorway. The first one is knitting up really quickly and the colorway is fantastic! Oh noro how I adore you!
Which reminds me I have been tagged for a knitting meme by
Eunny
(whose new blog looks grand by the way) which I will get to after my meetings.
Back to the grind.