Monday, November 28, 2005
Food hangover
Our little trip to j-ville was lovely but I seriously think I have a food hangover. Or maybe it is all the wine I drank. Eek!
It was wonderful to spend so much time with family & friends. Tons (and I mean tons) of great food and good conversations. Our "turkey" was fantastic!!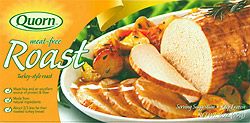 Although it is a technically a "fungus" the quorn roast tastes a lot like turkey! Yum, fungus!!
I also got news that my miyazaki swap angel package has arrived & was well received! Here is my favorite item:
A totoro hat!! I love totoro & have been thinking of making this hat for awhile now. the pattern can be found
here
I'm almost finished with one side of the scalloped bag from handknit holidays. I did 3 repeats of the scallops & I found a really cute pair of handles at the fabric store in jax.
I also finished the
"anthropologie inspired capelet"
from crafster's own lovely
julsey
!! I had exactly enough rowan polar leftover from my lace leaf pullover to make it! I wore it on thanksgiving & got lots of compliments! I promise to post pics soon (I just need to get some new batteries for the camera).
Now, to decide what's for dinner, Life cereal or a grilled cheese? Hmmmmm! Decisions, decisions!
Comments:
That hat is adorable (even though I have no idea what it's referencing) and I really like the capelet too. Glad your Thanksgiving was a good one!
I'm glad to hear that you had a good holiday! Also, thanks for the review on the Quorn roast. I forgot they made one, and I'm sure it's a bit cheaper than the Tofurky. So maybe we'll get one for X-mas. Mmm...vegetarian feasts. *drool*
Looking forward to seeing that capelet. My friend Rachel made one too!
Pretty hat. Can we get a shot of you "modeling" it? :) I didn't know Quorn was a fungus. That's pretty wild. I hope you had a good holiday!!!
Post a Comment
<< Home