Wednesday, November 02, 2005
Exciting stuff
I'm finally getting around to the meme that
Eunny
tagged me with last week. It's actually a knitting meme which is really cool!
Even more exciting than that, Lelah at
Woolgathered
is staring a free online knitting zine and looking for patterns for the first "issue". She has it slated for January release. All the info is in the link above if you would like to submit something. I love free patterns & I'm really thrilled that she is putting this together.
Now, on to the meme!
What is your all time favorite yarn to knit with?
Hands down I would choose blue sky alpaca. It is so soft & easy to work with and comes in great colors. I also adore cascade 220 & lamb's pride as they are both really reasonably priced & really versatile.
Your favorite needles?
I love my Denise set like nobody's business. I think it is really the way the cords feel. They are so pliable and easy to use. I also really dig the pair of handmade rosewood straights that Isaac bought for me at a craft show. They are smooth & get the nicest warmth to them as they are used.
The worst thing you've ever knit?
It has to be my first sweater. I went with the basic crew neck sweater from the yarn girls guide. Honestly it didn't look bad unless you inspected the seams or took a good look at my tension. It was too boxy and the color wasn't as good for a sweater as I thought. No (thank god), I don't have a picture to share! This by no means was the fault of the pattern. Nope, it was all poor yarn & an uncertain knitter! Boo!
Your most favorite knit pattern? (maybe you don't like wearing it...but it was the most fun to knit)
I love lace so I have to go with either the branching out scarf from knitty or Lelah.
Most valuable knitting technique?
I don't have any really fancy tricks but I really adore the long tail cast on! Oh & the being able to pick up dropped stitches! I have saved many an item that way!!
Best knit book or magazine?
My beat to death copies of the Mon Tricot dictionary & my vogue guide to knitting. ANTHING & I really mean anything I need answered about knitting is in one of those books.
Your favorite knit-a-long?
I've just joined my first blog kal (the
fuzzy feet along
but I have done a few on craftster. My favorite craftster KAL was the branching out. It was really awesome to see all the different yarns used and all the finished objects. Plus it was the perfect forum for working on my first lace pattern. So many supportive folks.
Your favorite knitblogs?
I also have to echo the loving funny knitblogs with great pictures. My favorites have to be Sandra at
I may be knitting a ranch house
, Yahaira at
Knit fix
Eunny at
See Eunny Knit
and Erin at
Knitters not Quitters
Your favorite knitwear designer?
Stefanie Japel
creates such amazing designs. She is definitely at the top of my list!! I also like Teva Durham & Debbie Bliss (for kids stuff).

The knit item you wear the most? (how about a picture of it!)
This one was easy!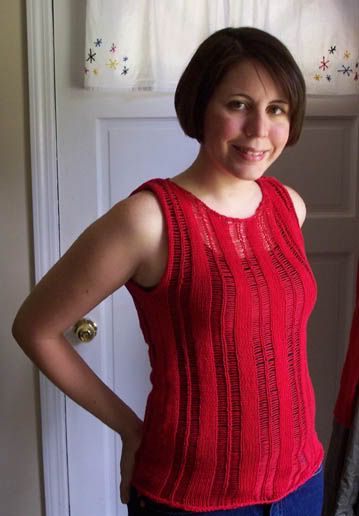 I wear my "Accidentally on Purpose" vest all the time! It is great with a tank top in summer or long sleeves now that it is getting chillier!
Your it!!
I'm going to pass this on to
Erin
(who loves to be tagged),
Kym
and
Lelah
Comments:
aww I love reading you too!
man, everytime I see your aop I want to run and knit it...but then I think about all that stst! sigh
I see the yarn girls got you as well. The patterns are fine, but all those shapeless bulky sweaters just aren't good for anybody I tell you.
Post a Comment
<< Home