Saturday, November 05, 2005
Just a quick update!
What a banner week for me (in knitting experiences). Not only can I now cable but I am ALMOST a sock knitter!!
I give you 3/4 of fuzzy foot #1!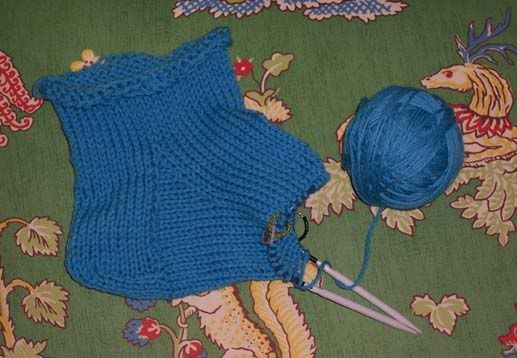 Knit in cascade 220 bluebell (possibly my favorite of all the cascade 220 colors) on size 10.5 needles.
So the whole "heel turning" thing, not nearly as hard as I had imagined! This pattern is really straight forward & they knit up so quickly!!
How about a progress shot on my "hurry up spring" armwarmers while we're at it!
I'm half way through the second one & I think I will be able to get both armwarmers out of one skein of Noro! That leaves one lovely skein leftover!! Ah the possibilities!!
Now off for a night of bad 50's B-list horror movies & scrabble!
Comments:
Yahaira, your armwarmers were my inspiration!! When I was thinking of cable projects the picture of yours kept popping into my mind!
I adore the colorway on that Noro & now I am lucky enough to have a skein left over! YAY!
Oh Carrie, don't be sad!! I was really worried about sock knitting (Yahaira can vouch for that) but it is a lot easier than I expected! If I can do it, you can!!
Post a Comment
<< Home