Thursday, May 12, 2005
Slower than molasses
So it's only 10:10 am but I swear it feels as if I have been at work forever!! Today was the scheduled day to up Elizabeth's medication (which has a side effect of making her drowsy) and now she is totally conked out. She actually fell asleep sitting upright at her table. Poor girl. I moved her to the sofa & will let her sleep for a little while. Hopefully it will be a more productive afternoon.
I got rather exciting news when I got to work. I have been asked to knit up some mini purses & mini clutches to sell at a fundraiser for
children's health care of Atlanta
. Which is an amazing hospital that provides high quality health care for children at no cost. I am so thrilled to be able to help out. I will make a little money on each item sold so I can at least cover the cost of yarn. Ah knitting with a purpose!
Last night I finished up my second medium bag from the
one of a kind Canadian design
.
The first one I made for the wish swap on craftster. Theresa received her package yesterday so now I can post pics.
Here's the purse: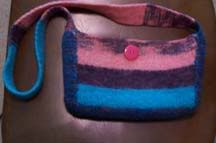 The lining:
And the extras that I made. A cell cozy, a knitted pouch for eye glasses or money and a hello kitty charm bracelet.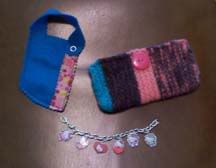 I also finished a mini clutch in hot pink for the color swap. I used cascade 220 in flamingo & lion's brand fun fur in raspberry.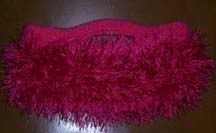 I cast on my felted bag with fair isle skulls last night! HURRAH! I got about 2 inches done before I was too tired to knit anymore. I can't wait to get home & knit! Yes, I'm obsessed! I will post a pic later tonight.
Isaac is making dinner tonight & he is a surprisingly good cook (for someone who really never cooked anything outside of camping til he was 26). Peppered tofu over angel hair pasta with this really yummy truffle oil! YUM!
If I'm really lucky we will have time to walk down to Jakes to get some ice cream. They have the best flavor. Mexican hot chocolate. It is this perfect blend of milk chocolate and cayenne pepper. I know it probably sounds terrible but it is the best!