Monday, May 09, 2005
Such a perfect day, drink sangria in the park....
So today was a really good day!
I wore my new thrift store find skirt.
Can you believe someone made that & then gave it away??? What a world!
I took a trip to the LYS & got decided on the colors for my
felted bag with fair isle skulls.
I decided on using up the Baghdad blue I ordered from
Peace fleece
and 3 colors of cascade 220- black, bluebell & flamingo.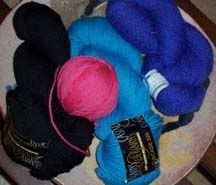 My new craftster peep
Lisa.
is going to knit it up with me. It will be great to have someone to bounce ideas off of since this is a
BIG
project.
When I got home from work this was waiting for me:
My husband is the most amazing man ever!! Along with the tulips were 2 tickets to
music midtown.
. MM is a huge festival here in ATL that usually sucks but... This year RAWKS!! The lineup includes the pixies, lou reed, the white stripes, joan jett & the blackhearts, devo, common, interpol, the killers, keane & so many more! Plus I just found out that we will be going to see Dinosaur Jr. in July! Woo Hoo!!
So many good concerts this summer. Ted Leo, Built to spill, Elvis Costello, Alice Cooper & Cheap Trick. The list goes on & on. It's gonna be a busy summer.
Well, my felted hot pink bag should be done felting now. Hopefully I will get pics up tomorrow!
Comments:
Wow! That music festival sounds faboo - I'm vvvv jealous. I saw the Pixies for the first time last year, and they were just amazing. Dinosaur Jr, the Killers etc too in your playlist? You don't just knit ace stuff, you listen to ace stuff too - my hero :D
Post a Comment
<< Home