Sunday, July 10, 2005
So I didn't learn to frame this weekend....
but I did accomplish a lot.
On Friday
Thee Monarchy V
came into town. Isaac was a member of that band til we left jax. He has been friends with those guys forever & it was great to hang out with them! They are a killer garage rock band!!
Saturday we went thrift store shopping & I came away with 3 pairs of my favorite Levi's (type 1) & 3 very cool vintage frames all the perfect size for any future
tiny showcase
prints. I also found a ton (10 skeins)of super soft caron's baby yarn from the 80's for $2.02!!!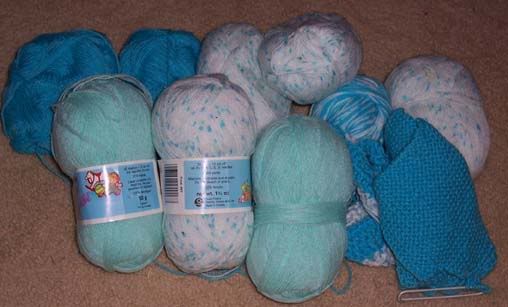 The bonus was when I opened it up there was a almost finished sweater to unravel & 4 stitch markers! Woo Hoo!! I have no idea what I will make with it but the colors are scrumptious & it was a steal! It's baby yarn so it is tiny! I am sure I will have to double or triple strand it.
The band played on Saturday night at this really bizarre show. It was all 60's style bands but they were the only true "garage rock" band. The rest were kind of caricatures of 60's bands. Complete with goofy outfits, lava lamps, black light posters and bean bag chairs. The boys rocked the house! They were the faves of the crowd- with good reason. Unfortunately I forgot my camera. Oh well!
Today we ate at original pancake house. Everyone came away full to the gills. Then we went record shopping at
Wuxtry records
my favorite record store. Ellen bought this awesome Tim Curry record in which he sings "You put a spell on me" and a song called "I'm just working on my tan". It was AWESOMELY BAD!!! She has promised to make me a copy! Isaac & I bought the kinks kronicles on vinyl! 3 LPS! Charles got a beautiful Thee Michelle Gun Elephant 3 lp set on colored vinyl. It was a serious find!!
After they left to go back to Jax we went home & heard this weird siren. I asked Isaac if it was a tornado siren to which he answered "Uh, I think it is". So we turned on the TV & waited. It was indeed a siren as we were under a tornado warning. It was the longest 15 minutes of my life. The weird thing is back when I was in Jax about 10 years ago an honest to goodness tornado touched down about 1 mile from my house. I was in the house & there was no siren. I mean we knew the tornado was there from the news reports but I think the siren made me more scared.
Thank god it passed to the west of us but others in atlanta weren't so lucky. All the remnants of these hurricanes and tropical storms have really done a number on the city. I feel terrible for those people in the pan handle and the coast of alabama. The worst part is hurricane season isn't over til November 1st. UGH!
Comments:
When I lived in Riverside a tornado passed through and uprooted trees everywhere. For some reason none of us were at home, we had all gone to do laundry or something at parent's houses. Weird stroke of luck.
I wonder if that is the same tornado you are talking about?
It probably was the same tornado. It was very scary! It really does sound like a train. Luckily eveyone that was in my house was OK.
Post a Comment
<< Home