Wednesday, December 21, 2005
A giving time of year.
This week has been good to me. Not because of Christmas bonuses or gifts from family and friends (although those are appreciated). It has been the unexpected but welcome kindness of my blog friends that has warmed my heart.
On Monday I received a Christmas card along with pattern for Mary Jane slippers from
Erin
. Why? Because she is a kind soul who knew I thought the pattern was lovely and she wanted to brighten my day. Thank you Erin!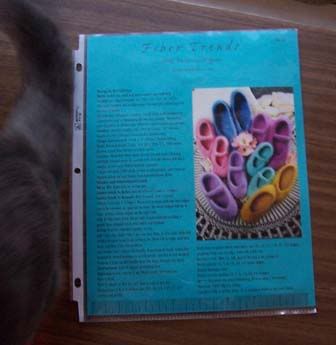 Today I got home to find a package from my spoilee from secret pal 6,
Janet
. She thought I could use a nice surprise as well so she sent me some candy, two scrumptious skeins of Shadow yarn from
Knit picks
in sunset, and a skein of Koigu --YUM. Thank you Janet!
The card she sent said: "For the best seat in the house, you'll have to move the cat". A very true statement as evidenced by this picture:
I'm still swooning over the lovely SP6 Angel package that I received from
Linda
last week.
No one had to send anything & it was out of the kindness of their hearts that they did. I appreciate that more than I can say. Thank you.
This time of year is so hectic with the rush to get/make gifts and all the trappings of the season. It is nice to be reminded that giving of time, love and friendship are the most important gifts you can give. I thank all my friends for those gifts this year. I look forward to your thoughts, advice and support every day.
Thank you.
I wish you all a most joyful Winter Solstice, Christmas, Hanukkah and New Year!
Comments:
I am so glad you got some cheery gifts! What a cute cat.
I have heard of Dr. Who, but never seen it before! I had an old friend who was downright obsessed with it in college...now I am finally enlightened :). It makes more sense why you're making that now...at first I was like "why on earth would anyone want a creepy old dude scarf?" and I figured there must be something behind it!
Post a Comment
<< Home