Tuesday, December 13, 2005
Bonanza!!!!
So secret pal beta aka
Linda
ROCKS!!!! It's only been a week since my secret pal alpha fiasco and what do I find gracing my doorstep? An amazing package chocked full of knitterly goodness!!
It included: 3 skeins of my favorite Cascade 220, Weekend Knitting (which I have been coveting for so long), America: the calendar (ah, Jon Stewart), a picture book of adorable kittens napping and a toy for Max. Which as you can see here he really digs!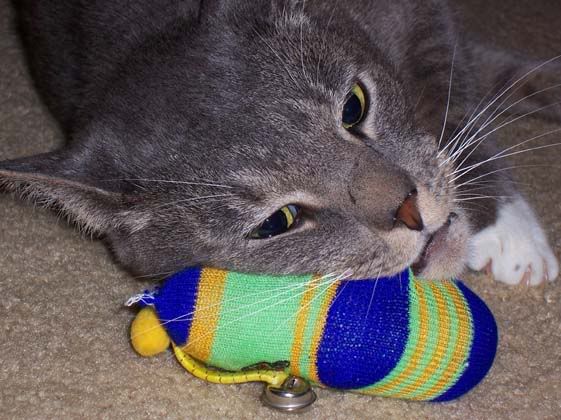 Linda's kindness went above and beyond giving presents. She really made me feel special and restored my faith in the whole SP system!!! Hop on over and check out her blog
The furry terrier
. She has some amazing pictures of FO's and her lovely little terrier Shelia. I know one thing, after an hour of perusing her blog I really want to learn to spin!!
I do have some knitting news but that can wait til' tomorrow as I think Linda deserves a whole post all to herself!!
Comments:
Yay for Linda, terriers, and SP goodness! Isn't "Weekend Knits" gorgeous?? I want to make everything in it... the elf feet crack me up. Looking forward to the knitting news, too. :)
OMG KITTY!!!
What a pretty baby. I have that knitting book too, it is just lovely. And how funny we both name our posts tonight "bonanza!: hee.
Yuuuuuummmmmmmy. See - that better pal was so worth waiting for :) And Max is supercute - a beautiful colour.
Post a Comment
<< Home