Tuesday, December 06, 2005
Blech and bah humbug!
That is how I felt about 2 hours ago. I never received anything from my secret pal for SP6 and then to pile on the hurt I got a really nasty email from her this afternoon. Luckily
Heather
is an amazing SP hostess who apologized profusely and got me a wonderful SP angel. Hello new secret pal!
To shake the yucky feeling from the email I decided to put up our Hanukkah-bush.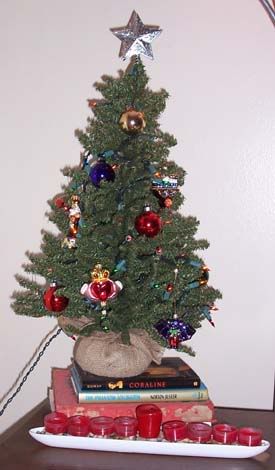 Note the Menorah in front of the tree. Yep, it's really a Hanukkah-bush.
Including a Menorah ornament: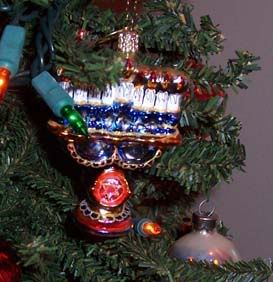 This is my favorite ornament. It was a wedding gift for our first Christmas as husband and wife: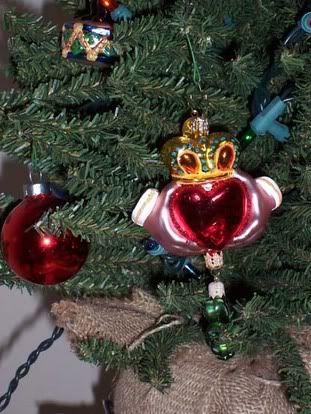 My grandmother gave it to us. It's an Irish Claddagh symbol. She immigrated here from Ireland in the early 1920's so it was a very appropriate gift.
The meaning of the claddagh is this: Two hands to represent their friendship, the crown to signify their loyalty and lasting fidelity, and the sign of the heart to symbolize their eternal love for each other.
It's a lovely thought isn't it.
So with all that done I'm back in good spirits and back in the Christmas spirit. I'm watching "It's Christmas Charlie Brown" which always makes me feel better about Christmas and all the commercialism.
So you want some knitting content?
How about this:
It's the beginning of a Jaywalker sock knit in
knitpicks
sock garden in geranium using MAGIC LOOP! I figured if I was going to try knitting real socks I should go all out. I really like knitting with two circ's like this. It ensures that I don't have any needles fall out while I'm knitting (which has happened to me before).
Thanks for all the encouragement
Yahaira
.
edited to add:
I just got more good news that my spoilee for SP6 got her package from me today. Hi Janet, I'm glad you liked it all! Check out her blog
here
. She has some adorable cats & lots of knitterly goodness!
Comments:
Eeks. Nasty email? I hope it wasn't because I ran my mouth in the comments on your blog. I just knew from Craftster how much you always chip in on swaps, so it seemed a little unfair. Your second secret pal seems nice, though! Awesome knitting content lately---that capelet is so lovely! Are those your first socks? They're gorgeous!
Post a Comment
<< Home