Monday, June 20, 2005
F*U* Urban Outfitters!! Buy DIY!!
Yeah I said it & I MEANT it!
Here are my newest purchases:
My
Flap bag
made by Jessica Rolland.
It's funny because there are lots of times I look at someone's shop and think "Yeah I could make that" but with these bags I just think "I hope someday I am half as good with my sewing machine".
The detail on her bags is PERFECT! Pictures just can't do them justice! If you are thinking about buying one - please do! It is well worth every penny!
And my
Deli Made
wallet.
I really love the fact that there are so many talented people out there who are making it. Even if it is a struggle, the fact that they are doing is inspiring!
While I am handing out some F*U*'s how about starbucks as well. I really hate them. They have infiltrated every corner here in Atl & put a couple of great mom & pop coffee shops out of business. BOO! Even through my hatred I must admit sometimes their drinks sound good to me. For instance the "Mint Mocha Frappachino". YUM! There is no struggle as I will not give them my money but it does sound really good so... Isaac & I made our own & it is delicious!! If you would like to make one you need:
6 coffee ice cubes (yep that is what I said)
1/2 cup of cold (or cool coffee)
3 (or more tablespoons- depending on your taste) of sweetened chocolate powder (like hersheys or ghiradelli's)
1 1/2 tablespoons (or to taste) or pure peppermint extract
As much milk as you would like to make it creamy.
Put in a blender & liquefy!
I can't promise it tastes just like the starbucks version but this one is YUMMY & probably much cheaper.
I also finished up my third One Skein Wonder this morning. It is with Elann Peruvian wool in lime Ice & Gedifra Dandy (I have no idea of the color). I followed the pattern for the smallest one & used size 8's & 5's again. Surprisingly it fits perfectly. Who would have known....
Dandy is bulky & I didn't have quite enough so I used the elann for the bottom inch of the body as well as the ribbing. I think it turned out quite lovely!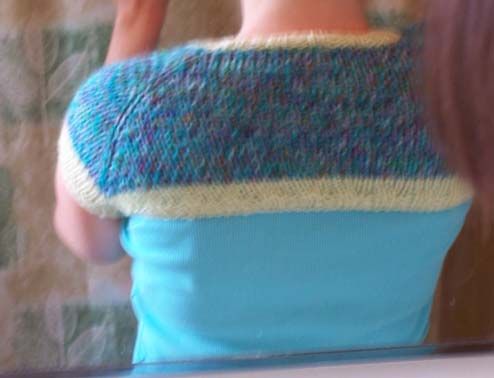 I still need to weave in the ends but I really like the end result!
Now to work on "accidentally on purpose" (I will finish it.... one day) I am also going to start on a skully version of "alien illusion" for my sister who loves all things skully.
Comments:
girl, listen...
I went to starbucks with a co-worker the other day, at first I refused to get out of the car but then I realized it was 95 degrees and I was only punishing myself. I went into the store with her while she spent $10 on two drinks.
She asked the "barrista" if she could have and iced latte and she said that they would have to make them by pouring a hot latte over ice!!! What??? Gross!
Yeah, every once in a while the old Coffee Shop Snob comes out in me.
I am such a coffee shop snob too! Who would have thought that Italia D' Oro would have shaped us so much?!?!
Post a Comment
<< Home