Friday, June 03, 2005
Ta Da!!!
So last night I finished my lovely felted bag with fair isle skulls.
Here is the before felting pic: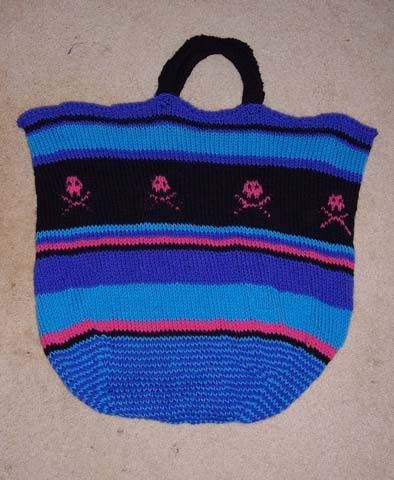 And the after:
With Max (for scale):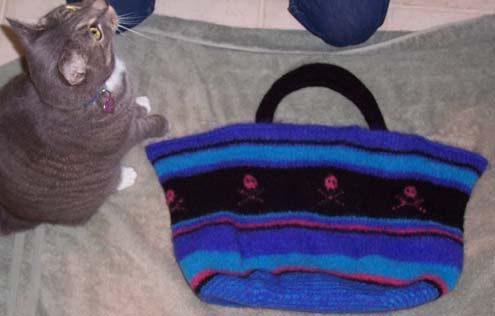 I am really thrilled with the way it turned out!! It is the perfect size and is really very cool in person.
As you may have noticed in the pictures the handles are in different places in the before and after. Well, I have to admit dear friends I was so excited to finish up the bag that I hastily measured and yes put my handles on off center for the first picture. It was only after taking the picture that I even noticed! So, I took them off and re-attached them.
Lisa
was wondering how I did the handles. I used 10.5 dpn's and cast on 10 stitches. I knit them in i-cords til' they were 18 inches long and attached them (twice- boo!) with double strand yarn. I chose to attach them on the inside so it isn't as noticeable. I like that look much better. I think I will sew them on with some thread as well. I want to make sure they are really durable.
Hopefully I will get to put in the lining this weekend & then I can tell we will be inseparable!!
So
Sandra
is knitting up accidentally on Purpose and even though she had to start over due to the absurd sizing I think I have been inspired and will knit it up next. I know hers will turn out beautifully!!!
Oh & my copy of
Loop-d-Loop
by Teva Durham is on it's way. HURRAH!!! I spent a half hour drooling over it in Borders tonight (too bad I had already ordered it). It is so lovely and has such great style. Isaac even said it would be a great coffee table book. So many amazing patterns! The only dilemma is what to knit first!
Comments:
Oh my god, what a great bag. :O Wonderful job, Leah. I love it so so much. Very impressive.
So I'm done knitting up the front of the Accidentally on Purpose vest in the small. And it's, well, kinda small (SHOCKING, ISN'T IT?!?!?!?!) I just measured it and it's 15' across, just the pattern said it would be. However, I think the fabric is going to be stretchy enough for me to fit into it. Let's hope so, anyway. *fingers crossed*
Thanks so much guys!! It was fun to knit up & I am LOVING IT! I lined it and added a pocket & magnetic snap.
Sandra- I'm sure that it will work. I did a practice swatch and it stretched a lot as I dropped the stitches! I'm sure it will look amazing (all your FO's do)!
Post a Comment
<< Home